"I will return to the Catholic Church if the Pope continues to speak this way", said Cuban president.
Submitted by: Juana

05 / 11 / 2015
---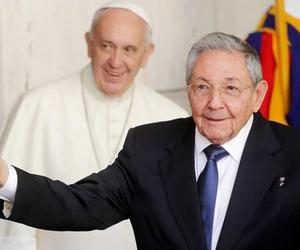 ---
In his few hours stopover in Italy, Cuban president visited yesterday morning the Vatican Holy See and held a 55 minutes meeting with Pope Francis. This is a record time for such meetings, described as exceptional by several media.
The Cuban president wanted to personally thank Jorge Mario Bergoglio by the active role he played in the improvement of relations between Cuba and the United States . In addition, he transmitted to the Pope the feelings of the Cuban people waiting and preparing his next visit to the island in September .
After the audience with the Pope, the Cuban leader went to Palazzo Chigi , seat of the Italian government, to meet with Prime Minister Matteo Renzi. The visitor told the press: "If the Pope continues to speak that way, I assure you I will end up praying again and I will return to the Catholic Church, and I do not say it as a joke."
The Cuban president said that after the meeting he was "impressed, really impressed by his wisdom, modesty and all the virtues that we know he has. He also stated that he will attend "with satisfaction all the Pope's masses" during his trip to Cuba.
source: www.cibercuba.com
---
Related News
---