Unfinished houses, that's the best offer Cuban government give to people that have lived more than 20 years in shelters
Submitted by: Camila

11 / 18 / 2014
---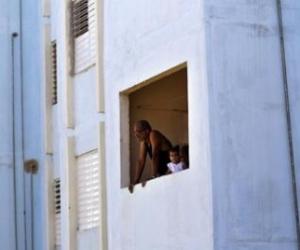 ---
About 1,100 low-income families who need housing in Havana and spent more than 20 years living in shelters or transit communities have finally been transferred to buildings that Cuban government has been building. However, the expected housing is far from the dream.

The "new" homes are delivered unpainted, no doors, bathrooms and kitchens unfinished, concrete floor, no phone line and faulty plumbing. The government's response is that the houses have been built under the concept of "affordable housing", for which the state guarantees "minimum conditions of functionality and livability."

Another aspect that tarnishes the arrival of these families to their new home is the occupation regime because they say the state promised homeownership and yet, they are assigned in the concept of "permanent rent".

The happy ending that more than 132,600 homeless people have expected is very different from what they intended. But despite the difficulties, many residents are happy to have a home at last, after the appalling conditions in which they have lived for years.

In addition to the 1,100 already delivered social housing in Havana between 2013 and 2014, the Ministry of Construction plans to build 1,480 other houses by 2015. The aim is that by 2016 won't be families with more than ten years of permanence in the shelters.

In granting housing priority is given to those who have resided in these transit communities over than 20 years and those who live in critical condition or have a disability.

Housing is one of the major social problems of Cuba, where the housing stock amounts to over three million buildings, of which almost half are in poor condition, while the general government deficit is estimated at about 600,000 homes.
---
Related News
---