The National Ballet of Cuba presents the 24th International Ballet Festival of Havana.
Submitted by: Rafa Faridis

10 / 10 / 2014
---
---
The twenty-fourth edition of the International Ballet Festival of Havana will be held from October 28 to November 7 following a prestigious tradition that now has 54 years of life and so far, 61 countries have participated, 73 foreign companies and more than a thousand guests.
This will be an appointment to see the best choreographic art, - expressed Mauricio Abreu, press officer of the Cuba National Ballet, at the press conference this October 9 - the gamut from folk dances from America, Africa, Asia and Europe to the great spectrum of academic dance.
The Prima Ballerina Assoluta Alicia Alonso presides, as usual, this great event that has a particular feature wich is to celebrate the 450th birth anniversary of the English playwright and poet William Shakespeare, with the staging of some of his works that have been brought to ballet language. That is the reason why, this time theme/slogan is "For Shakespeare, the dance."
The organizing committee assured the presence of the renowned corps de ballet of the Cuba National Ballet and the outstanding first dancers Ernesto Alvarez, Sadaise Arencibia, Anette Delgado, Dani Hernández, José Losada, Yanela Piñera, Amaya Rodriguez and Viengsay Valdes. Furthermore, will be performing several stars and ensembles from others countries, also foreign and national choreographic pieces will be debuting.
The main headquarters of this biannual festival will be the National Theatre (in Avellaneda and Covarrubias rooms), the MellaTheater and Karl Marx Theater.
Among the guests at this event are the Ballet Hispanico of New York (USA), Pontus Lidberg Dance (USA), LINGA Company (Switzerland), Ballet Estable del Teatro Colón (Argentina), Winter Guests (Norway), American Ballet Theatre (USA), New York City Ballet (USA), Washington Ballet (USA) Cincinatti Ballet (USA), Flandes Royal Ballet (Belgium), Hong Kong Ballet (China), Uruguay National Ballet SODRE (Uruguay), Ballet of the Opera of Nice (France), China National Ballet, Real Ballet of Denmark, South África Joburg Ballet, Ballet of Santiago de Chile, Theatre of Saint Charles Ballet (Italy), National Ballet of Puerto Rico, Bailado National Company (Portugal), Nothern Ballet (Britain), Hamburg Ballet (Germany), Norway National Ballet and the dancers Iván Putrov (Ukraine) y Carlos López (Spain).
In addition to performances, several activities will be held as part of the festival, such as a course in ballet techniques for professionals, teachers and advanced students. There will also be exhibitions in galleries in the city, conferences and book presentations.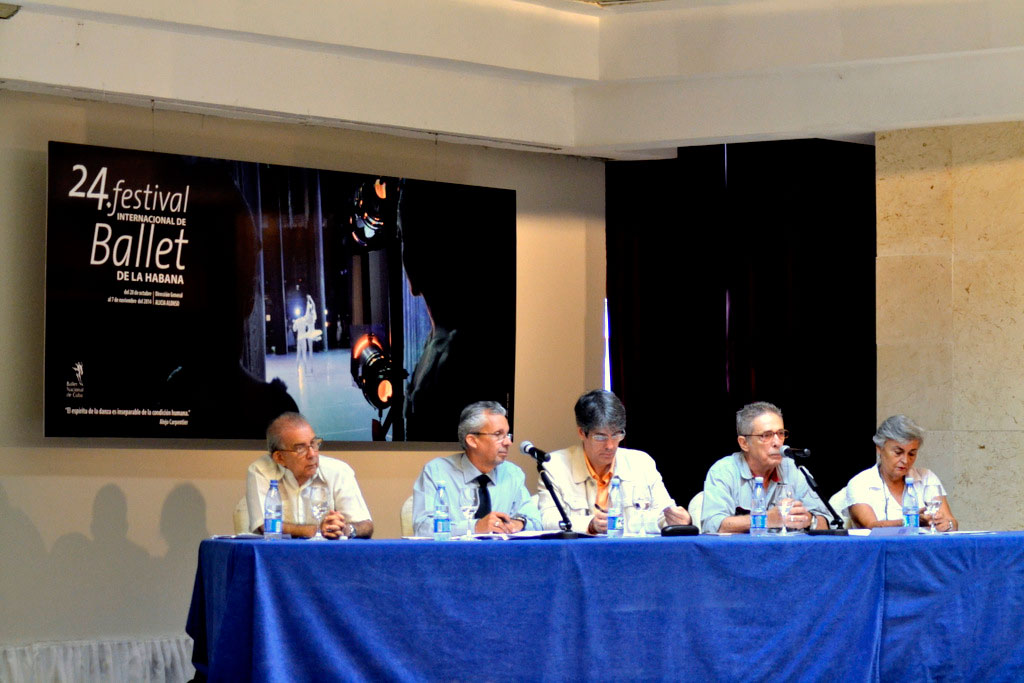 24th International Ballet Festival of Havana Press Conference - Photo by Alejandra Casanova
---
Related News
---