Havana Marathon 2014: More US Citizens Expected under People-to-People Travel
Submitted by: lena campos

05 / 14 / 2014
---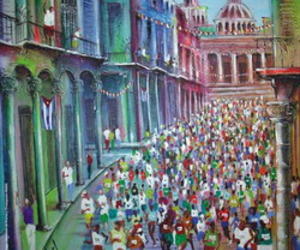 ---
The highly popular Marabana Havana Marathon is still six months away but a larger than ever US presence is expected this year with the issuing of a special license to the New York based Insight Cuba travel group to sell tickets under the people-to-people travel mode permitted by the Obama administration.
Ordinary US citizens are not allowed by their government to travel to Cuba without a license from the US Treasury Dept. The people-to-people option for group travel is allowed under licensing obtained by specific travel companies. The possibility to take part in this year's Havana Marathon and Half Marathon (set for November 16) is an extension of the group licensing possibilities.
In a press release announcing three tour packages for the marathon Insight Cuba states:
"Sport and athletic competition continues to be the great global conduit to bring people, cultures and countries together," says Tom Popper, president of Insight Cuba. "This year, we can finally realize the dream of Americans running side-by-side with our island neighbors through the neighborhoods of Havana during the Marabana Havana Marathon and half-marathon."
On the Cuban side, Marabana Havana Marathon race director Carlos Gattorno said: "We are proud to be working with Insight Cuba and provide Americans this very special opportunity." "We are excited to have runners from across the US at the starting line, and in a small way bridging the divide which has existed between our two countries."
"The course winds through magnificent avenues lining the UNESCO World Heritage city and past historic places of interest, including the famous Malecón–a broad esplanade, roadway and seawall which stretches along the coast from the mouth of Havana Harbor in Old Havana to the vibrant neighborhood of Vedado. Along the way, runners can take in the sights of the Hotel Nacional de Cuba, the expansive Revolution Square, and Havana's Capitolio (modeled after the U.S. Capitol).
"In addition to the marathon, runners will enjoy exclusive people-to-people encounters, which will include memorable meetings with Cuban runners and local residents," notes the non-profit travel organization.
Tour participants will also benefit from the guidance and expertise of RunnersWorld.com columnist and coach, Jenny Hadfield. "It's a historic marathon event and an epic way to journey into the heart of Havana, Cuba," says Hadfield. Coach Jenny has created special marathon training plans and tips tailored to prepare the runners for the Marabana Havana Marathon, and she'll be leading a pre-race shake out run and marathon prep presentations on the tour.
For more information on the Havana Marathon tours being offered visit the Insight Cuba website.
Source: HavanaTimes.org
---
Related News
---