Pitbull's 'We Are One (Ole Ola)' Selected as Official World Cup SongThe track will feature Jennifer Lopez and Brazilian singer Claudia Leitte
Submitted by: lena campos

01 / 25 / 2014
---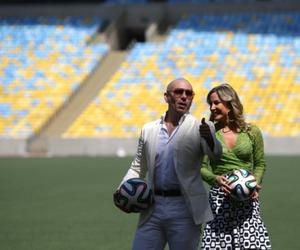 ---
FIFA, the soccer association that puts on the World Cup, announced yesterday that the Pitbull track "We Are One (Ole Ola)" is the sporting event's official song. The song will feature guest appearances by Jennifer Lopez and Brazilian singer Claudie Leitte and they'll perform it together during the World Cup Opening Ceremonies on June 12th at Brazil's Arena de São Paulo.
Sony will release the song, which Pitbull wrote and co-produced, later this year. It will also feature on an upcoming Sony release, Official 2014 FIFA World Cup Album.
Listen to Pitbull's Five Favorite Party Jams
"I'm honored to join Jennifer Lopez and Claudia Leitte at the FIFA World Cup to bring the world together," Pitbull said yesterday at Rio de Janeiro's Maracanã football stadium. "I truly believe that this great game and the power of music will help unify us, because we are best when we are one."
Lopez did not attend the announcement in Rio yesterday but commented via a press statement. "I grew up in a house that loved 'futbol', so I am thrilled to be performing at the World Cup Opening Ceremonies with Pitbull and Claudia Leitte," she said. "This is an amazing celebration of global unity, competition and the sport."
FIFA Secretary General Jérôme Valcke, who was in Rio, said he was happy that the song featured an artist from Brazil. "In my many visits to this country, I've heard a lot about the great Brazilian music tradition and it gives me great pleasure to see a Brazilian artist at the heart of this song," he said.
Leitte, who is known for singing in the axé style from Brazil's Bahia region, said that she was looking forward to "dancing samba" with the other artists. "I love sharing my culture and country to people through music," she said.
The last World Cup song, "Waka Waka" by Shakira and the South African ensemble Freshlyground, has sold over 1.7 million downloads since its release in 2010, according to Billboard. Currently it holds the Number Two position on the magazine's Latin Dance Chart, where it spent 42 weeks in the top spot.
Ricky Martin, who performed the official 1998 World Cup Song "The Cup of Life (La Copa de la Vida)," intends to record a new song for the World Cup this year, too. The track will be chosen via a Sony-sponsored contest, Supersong. Submissions are currently closed and contest organizers will announce the finalists soon.
The World Cup will run from June 12th to July 13th. Over 3.2 billion people reportedly watched at least a minute the 2010 event, according to FIFA. The organization said that figure – which is just short of half the world's population – had increased by eight percent from the 2006 World Cup.
Source: RollingStone.com
---
Related News
---