Cuba visits by way of El Paso
Submitted by: manso

07 / 29 / 2011
---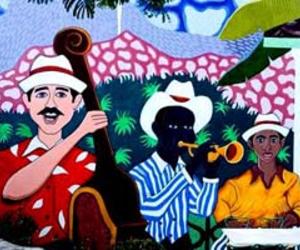 ---
By David Steinberg / Journal Staff Writer on Fri, Jul 29, 2011. Team Havana is a band from El Paso, but the main musical roots of its seven members are in the capital of Cuba. The members are from Havana, where salsa was everywhere.

David Rodriguez, the leader of the band, said that some of the players learned to play the music as the children of percussionists. The other members, besides listening to the music around them, formally studied in music conservatories. Rodriguez himself studied the bass in school.

Team Havana doesn't limit its repertoire to Cuban salsa. It also plays songs that have rhythms from other Latin countries, including the merengue from the Dominican Republic and the cumbia from Colombia.

"We play all the danceable tropical rhythms," Rodriguez said in a phone interview.

Team Havana performs mostly in El Paso but also has given concerts in Phoenix, Los Angeles and Miami. The band will make its Albuquerque debut in a Salsa Under the Stars concert tonight at the Albuquerque Museum's Amphitheater.

Rodriguez said Team Havana, which plays originals and covers, is currently in the studio recording its first album.

He said the group is one of three salsa bands in El Paso. The other two, he said, don't play the wide range of musical styles that his does.

Team Havana started in Cuba then moved to Mexico, where the band had a show. They stayed in Mexico for nine years before coming to El Paso, Rodriguez said.

Tickets for the 7 p.m. Team Havana concert are $15 general public, $13 students with ID and seniors and $12 museum and New Mexico Jazz Workshop members at www.nmjazz.org or at the door. Free for kids under 12.

On Saturday, July 30, two local blues bands will share the museum amphitheater stage for a Jazz & Blues Under Stars concert — the Memphis P.Tails and Soul Kitchen.

Darin Goldston, the bass player with the P.Tails, said this summer the band is playing weekly at two venues — Tuesday nights at Ned's on the Rio Grande and Wednesday nights at The Press Room. In addition, the band is playing at the downstairs bar at Zinc about twice a month and at The Dragon Horn once a month.

Tickets for the 7 p.m. Memphis P.Tails/Soul Kitchen concert are $13 general public, $11 students with ID and seniors, $10 museum and Jazz Workshop members.

The museum is at 2000 Mountain NW.

Source: www.abqjournal.com/main/2011/07/29/entertainment/cuba-visits-by-way-of-e...
---
Related News
---