Mexico: 350 Organizations Call for Solidarity March with Cuba
Submitted by: manso

07 / 24 / 2011
---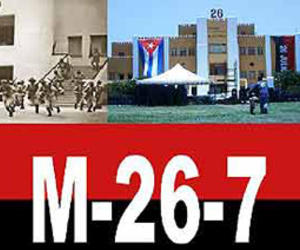 ---
By: Ana Luisa Brown. 10:43. Mexico, Jul 23 (Prensa Latina) A total of 350 organizations called for a mass march in solidarity with the Cuban Revolution that will take place on July 26 in the Mexican capital.

The demonstration that will begin at 5:00 in the afternoon will cover the streets from the monument to Juarez to the US embassy.

Mexico celebrates this day every year to mark the attack on Moncada's garrison in 1953 that was led by Fidel Castro and gave way to the victorious struggle against tyrant Fulgencio Batista.

One of the members of the organizing commission of the Mexican Movement of Solidarity with Cuba, Pedro Gellet, said that the activity is the one with an international political content that has the greatest participation in his country.

The demonstrators will condemn the US blockade to the island, demand the release of the Cuban Five antiterrorists imprisoned in the US and express their solidarity with the revolution.

Social movements, political organizations, trade union associations and representatives of other social sectors have convoked the march.
---
Related News
---