Ecuador's President Urges the U.S. to Lift Blockade against Cuba
Submitted by: manso

07 / 01 / 2011
---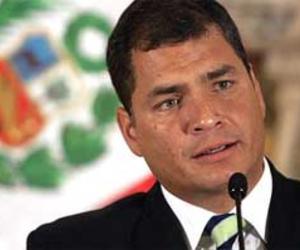 ---
HAVANA, Cuba, Jun 30 (acn) Ecuadorean President Rafael Correa urged Washington to put an end to the economic, commercial and financial blockade against Cuba,and labeled the measure as an offense to the international law.

According to the Cubadebate website, Correo told Prensa Latina the action underway for more than 50 years now against the island demonstrates international double standards, and that it is unjustifiable at this point of the history of mankind.

Correa stressed: "such a barbarity must end; such an offence to international law, such an abuse; such a demonstration of double standards must end as rapidly as possible."

The Ecuadorean President also referred to the unfair imprisonment of five Cubans in the United States for nearly 13 years now. He said in their case, their human rights were violated and the judicial process was broken.

Correa the case of the Cuban Five was another example of double standards and imperial arrogance.

He added that it is equally outrageous that the U.S. releases human right reports every year pointing a finger at other countries, while practicing torture in the illegal prison of Guatanamo Bay, and keep the Cuban Five in prison and throw bombs in sovereign countries like Iraq and Afghanistan, just to mention a few.
---
Related News
---