Hurricane alert for Guantánamo and several municipalities of Holguin due to Tomas hurricane
Submitted by: admin

11 / 05 / 2010
---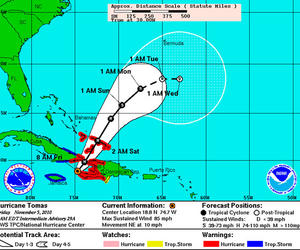 ---
Data from a reconnaissance plane investigating the tropical storm this morning found Thomas' maximum sustained winds of 130 mph and minimum central pressure of 984 hPa, as Thomas is now a category one hurricane on the Saffir Simpson and maintains the course the Nortenordeste at 18 miles per hour.

At six o'clock, the radar of the Gran Piedra, the hurricane center located Thomas in the 18.4 degrees north latitude and 74.7 degrees west longitude, a position that puts him near Cape Tiburon, Haiti, some 217 miles south-southwest of Punta de Maisi, eastern tip of Cuba and about 310 miles south-southwest of Great Inagua, Bahamas Eastern.

It is forecast that in the next 12 to 24 hours, the hurricane will continue to escalate more opportunities today to begin to weaken in the next 24 hours. Thomas will move in a direction close to the northeast, increasing its speed, leading to near the eastern tip of Cuba at the end of the morning.

It will continue to rain on the eastern provinces, which will be strong and locally intense mainly in mountainous areas. Since Friday morning, winds will increase to tropical storm force 70 to 100 kilometers per hour, gusting higher at Guantanamo and between 40 and 60 miles per hour in the eastern half of the provinces of Holguin and Santiago de Cuba. Rough seas continue to pose a danger to shipping and coastal flooding from moderate to severe in low lying areas from Punta de Maisi to Cabo Cruz.

Given the current position of Thomas and the forecast track, the provinces of Santiago de Cuba, Guantanamo and Holguin should pay more attention to warnings of this hurricane coming.
---
Related News
---