'La Visita de la Vieja Dama' at the Goodman: First time in U.S., a story about a homecoming — maybe to Cuba
Submitted by: admin

07 / 10 / 2010
---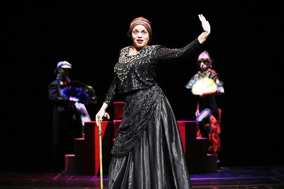 THEATER REVIEW: "La Visita de la Vieja Dama" Through July 11 (in Spanish with English subtitles) by Teatro Buendía for Latino Festival in the Goodman's Owen Theatre, 170 N. Dearborn St.; Tickets: $28; 312-443-3800 and www.goodmantheatre.org. Starring Ivanesa Cabrera.

The first United States performance, en masse, by the leading theater company in Cuba took place at the Goodman Theatre on Thursday night.

Art thrives on such portentous, barrier-crushing moments and thus the end of Teatro Buendía's highly arresting production of "La Visita de la Vieja Dama," playwright Raquel Carrio's lean and intriguing adaptation of Friedrich Durrenmatt's "The Visit," was greeted with a standing ovation that crackled with emotion flowing in both directions between audience and performers.

It was impossible to separate the production from the cultural context it represented — nor should it be.
Durrenmatt's "The Visit" (also the source for a musical by John Kander and Fred Ebb that premiered at the Goodman) is a piece about a rich old woman, Clara Zajanin, who comes back to the economically depressed town in which she grew up, but left to make her fortune.

The mayor of the town, who happens to be Clara's former lover, thinks that she has returned as an economic savior. In fact, Clara has returned to settle an old score with the mayor, and with the town that once sent her away.

Cubans, of course, know a thing or two about the complexities of people leaving their island, and of people coming back.
And for much of these fascinating 90 minutes, one leans forward trying to figure out what Carrio and the director, Flora Lauten, have to say about Cuba's place in the world right now.
One could perceive a pro-Castro message, I suppose, in a show that seems to be about the folly of relying on outsiders — even outsiders who once lived among you.
But this is no piece of propaganda. We get the picture of a desperate town, all right, and this is a community that made the mistake of poisoning a woman who might one day have saved it.

So you could just as well say that "La Visita" is about the unfortunate consequences of the revolution. Of course, one can make too much of a Cuban metaphor.
"La Visita" is also about the contrasting pulls of nostalgia and retribution, and about
how we sometimes have to do things that we know will result only in pain.

The piece has an unusual style. The overall style of performances is very broad — not far removed, really, from commedia or pantomime — and that has the intial effect of flattening the cruical differencies between the various remaining citizens of
this clapped-out town.
It is strange to see "The Visit" played for laughs. But what feels at first like a performance that lacks truth morphs into the expression of a different kind of theatrical truth that draws one into the show.
The piece certainly has a retro, even an isolated, style and plenty of politically incorrect elements. You would not normally see a U.S. company accompanying a reference to China with a pull on the skin around the eyes, or adding a gratuitous "Oy" after a reference to the State of Israel.

But I don't think either of those moments were meant the way they perhaps came off. The characters are all limited in their world-view.
Indeed, the Durrenmatt original has its quirky elements. Clara arrives without one leg and one arm; those appendages have been replaced by her two colorful, gender-bending sidekicks.
Lauten captures that same spirit by including a variety of cabaret-like songs, adding a note of Brechtian remove and further adding to that sense of a golden age, now lost.

The performances are mostly of a stylistic piece, with Alejandro Alfonso, who plays the mayor, offering a very internalized and not wholly revealing look at a man who must confront the present consequences of his past sins.
But Ivanesa Cabrera, who plays a most eclectic Clara, is fascinating from the moment she first walks out on stage. You think to yourself that they must have made an unusual pair of lovers, but then when people move away, they invariably change and confound those whom they once loved.


Source: http://leisureblogs.chicagotribune.com/
---
Related News
---