Pupy y Los Que Son, Son were spectacular at Central Park yesterday
Submitted by: admin

06 / 09 / 2010
---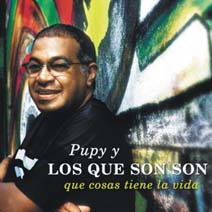 Pupy is a class act, and so is the band. He's one of the nicest guys I worked with in my years doing business in Cuba.

No one is more knowledgeable about the intricacies of how Cuban popular music is put together. Thirty-two years of being a pillar of Los Van Van and ten years with this group -- that's more than forty years of constantly being in the game, constantly playing for Cuban audiences, to say nothing of the piano heritage he carries -- a link back to the great era of the black trumpet conjuntos, given that his father, Gerardo Pedroso "Nené," was the pianist who played on records like Chappottín's "Camina y Prende el Fogón.

" Pupy's tumbaos carry the whole history of son montuno in them. And,as a friend of mine says, "Pupy tiene tremenda pluma" -- he has a great pen.
He's been writing hits for decades. (He also, I should note, collaborated with me on the arrangement for "Her Point of View," my favorite tune on Cowboy Rumba.)

It's a first-class, no-bullshit, band, perfectly contemporary and perfectly in the tradition, slamming meticulously. They were decked out in white -- not uniforms, but aché.

It was an honor to be the MC, representing for Postmamboism and Elegguá in my red on black T-shirt. Pupy's daughter Jindra, who now manages the band, asked me to start out by calling each player onto stage one by one,each one playing his way in before the next one was called.

So I actually got to vocalize over the band for a hot minute before Pupy came out and slammed into gear. And I got to watch the set from the side of the stage.

The audience was pumped. This is a small segment; Summerstage is a union shop, and rules forbid taking pictures from the stage, so I couldn't shoot much.

Incredibly, this is the first summer we've had Cuban music in New York in seven years, so the audience was seven years' worth of ready for it. When I started the concert at 3:00, I called out "Somos o no somos?" and a whole lot of people yelled the nswer.

From stageside, I was in a good position to appreciate as many fine points as I could take note of. You expect a Cuban percussion section to be killer, but this one is especially sharp.

One of the things that happens in timba is that as the montuno percolates along, the rest of the rhythm section hits a complicated,rehearsed break together, which, given the impact and volume and the fact that your body's moving while you listen, comes as not merely an intellectual but a complex rhythmic physical pleasure that catches your ass on the offbeat like it was the downbeat, then slams back in time.

These players have such a fat library of breaks in their head that the music can turn into a texture of breaks,becoming extended drum speech. <Drummers on nedslist roll their eyes; drummers,if you were there, how would you describe it?>

They did their older material. After a Cuban dance band plays a tune for a few years, it gets built out, and the first number lasted 25 minutes.

That was a typical length; the plug was pulled 15 minutes before the scheduled end time because if they did one more, it would have put the concert in violation of the hard 7 p.m. curfew.

They were just getting warm. The night before, in Miami,they played three hours nonstop, finishing at 3:30, then they hit a 7 a.m. plane to New York, sound check at Central Park, and quick chill, so this was the late late set for them.

If you're in New York, I'd strongly recommend hitting either the Thursday night gig (the 10th) at SOB's, or the one on the 20th, also at SOB's.

Pupy promised me they'd play some of the new tunes, including "Un Loco con una Moto," which,according to my informants is a very big hit in Havana right now, driving everybody, well, loco:


mami, yo soy un loco
loco con una moto
loco con celular
celular que tira fotos

(mami, I'm a loco
a loco with a motorcycle
a loco with a cell phone
a cell phone that takes pictures)

Can't find a video for it, but if you want to study up the coro so you can sing along at the gig the tune's at: http://www.youtube.com/watch
Besides the New York dates, they're also playing DC (actually Virginia, the Salsa Room in Arlington, on the 19th) and California, with dates in L.A. and a bunch in the Bay Area, and maybe some others I don't know about, so watch out.


Source: groups.yahoo.com/
---
Related News
---