Cuba-Brazil-Haiti Tripartite Commission in Session
Submitted by: admin

06 / 09 / 2010
---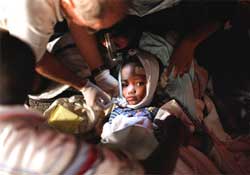 HAVANA, Cuba, Jun 8 (acn) Cuba's significant contribution to the training of more than 600 Haitian doctors was praised during the first day of a week-long meeting in Port-au-Prince of the Cuba-Brazil-Haiti Tripartite Commission.
    
The members of the Commission acknowledged the work Cuba has been doing in Haiti for over ten years now and Cuban Public Health Deputy Minister Lorenzo Somarriba ratified his country's willingness "to continue working tirelessly so Haiti can have a strengthened Public Health System."

On Monday, participants discussed the issue of the training of human resources, which is one of the greatest problems the Haitian health system is facing, as admitted by Jean Hughes, president for Haiti in the Tripartite Commission, who pointed out that there's a deficit of professionals."

He added that, according to the World Health Organization, some 25 specialists are needed to see a population of 10,000 people. "In Haiti we have only 2.7 professionals per every 10,000 inhabitants," he noted.

Hughes explained that most Haitian physicians work in Port-au-Prince, and that over 50% are general practitioners. He also pointed out that graduates from specialties like Orthopedics, Anaesthesiology or Otorhinolaryngology are almost nonexistent.

With regard to the training of professionals, Doctor Clarisse Ferraz, heading the Brazilian delegation, explained that Haiti has trained doctors "for a curative health system; we haven't had the time to train qualified teams for health promotion, for public health, for community health.
And we have to change that situation, in order to reduce illnesses like tuberculosis, malaria, or the high indexes of infant mortality rate. Now, Haiti will also have Brazilian professionals in its universities."


Source: ACN
---
Related News
---