Governor Perdue, WSB-TV Head To Cuba
Submitted by: admin

06 / 06 / 2010
---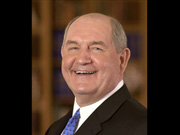 Gov. Sonny Perdue is taking a group of Georgia agricultural business leaders to Cuba to explore trade and tourism with the island nation.

Justin Farmer and Lori Geary from WSB-TV will travel with the group too. The pair will provide coverage of the trip on WSB-TV and wsbtv.com.

The 43-person delegation is scheduled to leave from Atlanta on Sunday bound for Havana, Cuba. Members of the group include officials from the state's poultry, dairy farmer and agribusiness associations, as well as University of Georgia officials and state lawmakers.

Each one paid about $2500 for the trip. This is a very targeted group, limited to companies that sell products specifically allowed under the trade embargo with Cuba.

The two-day trip will include meetings with Cuban government officials and a visit to the Latin American School of Medicine.

Georgia ranks third among U.S. states exporting to Cuba, which include poultry, soybeans, pork, sausage and margarine.

The Governor planned to host a dinner for the delegation in Cuba Sunday night at the hotel where the group is staying in Old Havana.

This is Perdue's first trip to Cuba.
Source: www.wsbtv.com/
---
Related News
---