President Raul Castro and minister take economics issue before an assembly of top military officers
Submitted by: admin

06 / 05 / 2010
---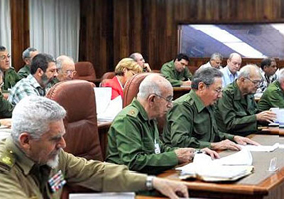 A speech delivered by Raúl Castro last Friday, May 28, was summarized one week later, on Friday, June 4, in the Communist Party daily Granma by its editor-in-chief, Lázaro Barredo Medina, a member of the National Assembly.

The speech was delivered at the Armed Forces Ministry to an "expanded gathering" of the National Defense Council that dealt with national security, defense and disaster preparedness, and the overall role of the armed forces in the nation's economy.

Five "vital" points.
1. To continue to work, in a sustained and irreversible manner, on the solution to the complex economic problems faced by the nation.

2. To boost the nation's ability to deal with disaster situations.

3. To consolidate and strengthen the system of command and direction in the country to confront the various exceptional situations and, depending on the economic possibilities, to expand a system of "infocommunications with the required vitality."

4. To continue to develop our Military Doctrine and Arts, using as a basis and point of departure the Strategic Concept of All the People's War, and to pay special attention to the size and composition of the Revolutionary Armed Forces.

5. To maintain the pace reached in the engineering of the Theater of Military Operations, achieving a greater technical and economic efficiency in all aspects.

An address by the minister of the Economy and Planning, Marino Murillo Jorge,"evaluating the possible economic scenarios the country might present in the next few years" was "extremely clarifying," Barredo wrote.

Considering that Murillo was addressing an audience composed mostly of military officers, the account suggests that the armed forces may be given greater oversight of the economy.

Castro phrased the situation in military terms, saying that "the economic battle constitutes today, more than ever, the principal task and the center of the ideological work of the cadres, because the sustainability and preservation of our social system depend on it."

At the "expanded gathering" were the principal leaders of the Party, state and government, the Union of Communist Youths, various mass organizations, and chief officers in the armed forces and the Interior Ministry.

By Renato Perez
Source: miamiherald.typepad.com/cuban_colada/
---
Related News
---