Cuba OKs residential projects linked to resorts
Submitted by: admin

05 / 05 / 2010
---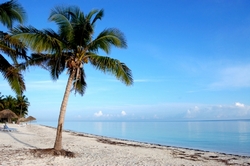 HAVANA – Cuba has approved construction of residential projects linked to resorts, the tourism minister said Tuesday, possibly opening the door for villas that could one day ring oceanfront golf courses and other vacation gateways.
Manuel Marrero said the island is on pace for its third straight record year of foreign visitors, and it hopes to continue expanding into the little-tapped golf market.
He said the government has green-lighted "real estate for tourist purposes," without giving details. But the move may mean Cuba will allow tourist developments that include long-term residences — not just hotels catering to short-term visitors that now line the island's beaches.
Investment firms in Canada and Europe have proposed building golf courses coupled with luxury housing under long-term leases with Cuba's government. Endorsing residential zoning for tourism could be a first, albeit small, step toward making those projects a reality.
The decision would allow Cuba's "entrance into new segments and the realization of investments in areas with tourism potential that have yet to be exploited," Marrero said.
The island has only one 18-hole golf course and hopes to build 10 more, but has yet to break ground on any projects financed by foreigners.
Addressing a tourism fair at Morro Castle, a Spanish fort built in 1859 that guards the sea entrance to Havana, Marrero also said Cuba may exceed 2.5 million foreign visitors in 2010.
More than 1.05 million foreigners had come as of the end of April, the most-successful four-month span since Cuba began promoting large-scale tourism after the collapse of the Soviet Union and the end of its billions in annual subsidies to the island.
"It's been surprising because we began with January and February really bad — bad because of the financial crisis, because of many factors," Marrero told reporters after his presentation. "But March and April have been very good."
In 2009, Cuban tourism rose 3.5 percent, with more than 2.4 million tourists coming, mostly from Europe and Canada, despite the global recession. But many visitors stayed fewer days than usual, and tour operators offered steep discounts to keep them coming, meaning revenues slumped nearly 12 percent.
While the U.S. government doesn't permit most of its citizens to travel to Cuba, the Obama administration has eased restrictions on Cuban-Americans visiting relatives here. But those who come for family travel are counted as Cubans, not foreign visitors.
Marrero said 50 percent more Cuban-Americans visited early this year than during the same period last year, but offered no statistics.
He said Cuba has 50,000 hotel rooms nationwide, many in establishments jointly operated by the government and private companies in Europe.
By WILL WEISSERT, Associated Press Writer
Source: Yahoo
---
Related News
---