Vilma Espín's Life and Work at Memorial in Santiago de Cuba
Submitted by: admin

04 / 06 / 2010
---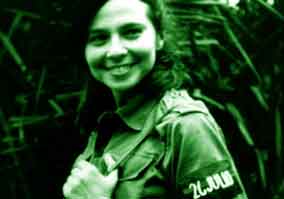 The Memorial is dedicated to the life and work of the Sierra Maestra Heroine Vilma Espín Guillois. It opens Wednesday on the occasion of the 80th anniversary of her birth.

Margiola Sánchez Del Campo, the director, said that the tireless fighter lived there since she was 9 until the triumph of the Revolution on January 1959. There she grew and became revolutionary.

The development of the fighter, mother, wife, and Cuban Women Federation president —an organization she created and headed until her death on June 18th 2007— will be retold in six halls.

The memorial will also have other areas as a multi-functional hall for events and activities development to all population, a computer with digital information on her entire life and a hall for temporary exhibitions.

Santiago's artists will exhibit here, and Miguel Botalín, a family friend since youth, will be the first to do it. His art work will reflect the history of the old city streets where Vilma (born on April 7th, 1930) walked many times before.

The Memorial includes the houses marked with the numbers 473 and 475 which date from the late 18th century, whose architectural and historical values distinguish them in the heart of the city.
It was the first house where Vilma lived, and it was the headquarters of the clandestine struggle after the armed uprising of November 30, 1956.

Espín Guillois' family house was frequently visited by young people from the University of Oriente, who like to celebrate in the traditional carnival festival that takes place in San Jerónimo streets.

An atmosphere of simplicity, austerity, and modesty were felt in that house. Her mother taught French and piano lessons.

In that time, friends, neighbors, and historical figures walked through the wide corridor: Haydée Santamaria, Armando Hart, Asela de los Santos and Frank País, who used to play the piano there.

Inquiries made by the Memorial staff have provided new knowledge about Espín Guillois' family during their stay in the house, said Margiola Sánchez del Campo.

By Marlene Montoya

Source: ACN

---
Related News
---