Cuban President Raul Castro Attends Summit for Latin American and Caribbean Unity
Submitted by: admin

02 / 23 / 2010
---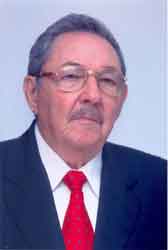 Cuban President Raul Castro heads the island's delegation participating in the Summit for Latin American and Caribbean Unity that will be in session on February 22-23 in Cancun, Mexico.
Also making up the delegation are Foreign Minister Bruno Rodriguez and other members of the Cuban Foreign Ministry, the Granma and Trabajadores newspapers report on Monday.
As announced in Cancun by Mexican Deputy Foreign Minister Salvador Beltran, participants in the Summit will issue a declaration against the blockade imposed by the United States on Cuba for over half a century now, the Prensa Latina (PL) news agency reports. PL also reports statements in this regard made by Rodriguez.
"There's a unanimous stance of all Latin American and Caribbean nations condemning the blockade against Cuba that demands of the US government its immediate lifting", said the Cuban FM.
"This Summit can be historical", added Rodriguez while referring to the meeting's central theme: the creation of a genuinely Latin American and Caribbean organization that depicts the ideas of Simon Bolivar, Jose Marti and Benito Juarez.
The conference will also issue declarations on the reconstruction of Haiti and on Argentina's sovereignty over the Falkland Islands.
Source: ACN
---
Related News
---