Cuban injured education collaborator in Haiti is in ICU at Santiago de Cuba province
Submitted by: admin

01 / 15 / 2010
---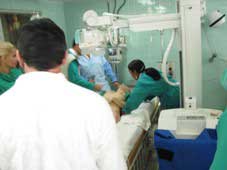 Joel Melo Torres, Cuban Cooperating in Education who was seriously wounded in the earthquake in Haiti, arrived to the Intensive Care Unit (ICU) of the Hospital Juan Bruno Zayas on Thursday morning.
" Melo was around 18 hours compressed by rubbles and arrived our Hospital in serious conditions , with burns on his gluteus and hips, injuries by excoriations on arm and legs and his been evaluated by a multidisciplinary team according the request of the head of the (ICU) medical team Dr. Eduardo Márquez ", said Dr. Jorge Miranda, director of the Hospital.
The patient –he added- has been practiced X-rays an ultrasound, has a small sub capsular bruise on the spleen. Until now, his condition is stable he does not need any surgery. We can not give an immediate diagnosis but we'll keep our eyes on him.
Other two Education Collaborators that came from Haiti with slight injures, Alina Almeida Figuera from Pinar del Rio and Adalberto Bravo Carbonell from Sancti Spiritus continue their travel to Havana by plane.
Source: www.sierramaestra.cu
---
Related News
---