Encounter on World Cultural Heritage
Submitted by: admin

01 / 10 / 2010
---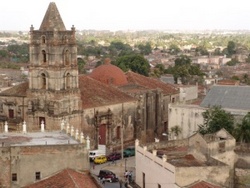 Experts from Mexico, Argentina, Spain and Cuba will debate a plan of attention to the World Cultural Heritage sector in this town, one of the first ones founded by the Spaniards in The Americas.
The meeting has been scheduled for January 29 and 30 in a workshop to enrich the proposal, so far partially implemented and in keeping with the aforementioned status given in 2008 by the United Nations education, Science and Culture Organization.
Specialists from the Camaguey City Historian's Office led the devising of the project, which includes actions to preserve buildings, populations, services and tourism, and legal norms to protect the built-up heritage.
The meeting will serve as a preliminary to the 4th Symposium "Challenges in City Management", to be held on February 1 and 2, within the framework of the Culture Festival for the 496th anniversary of the founding of the Villa de Santa Maria del Puerto del Principe, today Camaguey City.
Kirenia Perez, an architect with the Historian's Office, told ACN that delegations from the four countries will also participate in the second forum, which will include debates on topics such as pedestrian and vehicular movement, management of urban plans, and housing in historical areas and the participation of citizens.
The World Cultural Heritage area covers around 15% of the urban historical area, a National Monument.
Santa Maria del Puerto del Principe was founded on the banks of northern Nuevitas Bay on February 2nd, 1514, according to tradition.
First located in Caonao, it was moved to its final location in 1528.
Source: Cuban News Agency and Cubasí
---
Related News
---