Cuban ballet will dance "The Nutcracker" in Valencia together with local students
Submitted by: admin

12 / 19 / 2009
---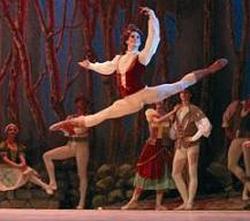 The Cuban National Ballet, under the direction of Alicia Alonso will be performing 'The Nutcracker' in the Principal Theatre of Valencia, Spain, from December 19th to January 3, 2010.
The version of the classic ballet, with choreography by Alicia Alonso, was co-produced by La Fenice Theatre, of Venice, the Carlo Felice Theatre, of Genoa, and the Cuban company.  
This time, the performance will have a different touch as the Cuban prime ballerinas Viengsay Valdes, Barbara Garcia, Anette  Delgado, Sadaise Arencibia and Yanela Piñera and leading dancers Elier Bourzac and Javier Torres will share the stage with  
students of the Professional Dance Conservatory of Valencia.  
According to the school's General Director, Inmaculada Gil Lázaro, for the children and youngsters of the Spanish school,  performing 'The Nutcracker' means not only a great opportunity to learn from the professors of the Cuban Ballet School but  also to improve their technique and take it to the stage.  
With an original choreography by Lev Ivánov, music by Piotr Ilich Chaikovski and original script by Marius Petipa, 'TheNutcracker' was premiered on December 18, 1892, in the Marinski Theater. The leading roles were performed by Antonietta  Dell'Era, Pavel Gerdt, Olga Preobrajenska and Nikolai Legat, with designs by M.I. Botcharov, K. M. Ivánov and I. Vsevolovski, and the orchestra directed by Riccardo Drigo.  
Alicia Alonso's creation was performed for the first time during the 16th International Ballet Festival of Havana on November 5, 1998.  
Alonso made her version of 'The Nutcracker' starting from elements of the original and taking into account the peculiar style conceived for this ballet by Ivánov.  
Alicia Alonso danced 'The Nutcracker' with the American Ballet Theatre and the Russian Ballets of Montecarlo, where it had been originally performed by masters of the former Russian school such as Nikolai Sergueiev and Alexandra Fedórova.
Source. ACNnews
---
Related News
---