New bird species seen at the northern keys of Ciego de Ávila province
Submitted by: admin

12 / 14 / 2009
---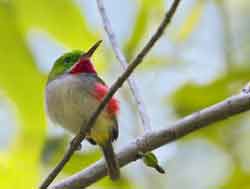 The area is an important bird migration passage way in the Caribbean region.
Alaín Parada, a biologist of the Coastal Ecosystems Research Centre, based amid the famous Jardines del Rey (King's Gardens) tourist destination, informed that for the first time on the Paredón Grande Key, species such as the ring-necked duck (Aythya
collaris), the short-billed dowitcher (Limnodromus griseus), the savannah sparrow (Passerculus sandwichensis) and the lark sparrow (Chondestes grammacus) were seen.
Parada explained that these birds appear to be winter residents in the keys Coco, Guajaba, Sabinal, Guillermo and Santa María, but the long-nailed sparrow had never before been viewed at any of the island groups of the Cuban archipelago.
Omar Fernández Pérez, another specialist of the Research Centre, said that with these species the number of increases to 152 of birds recorded on Paredón Grande, a key of barely nine square kilometres with unquestionable environmental and biodiversity values.
These values constitute a challenge for those who operate on the area, achieving economic developing, without causing irreversible damages to nature..
The study of migratory species at Jardines del Rey keys also aims at verifying whether the birds travel in the same season, taking into consideration the alterations undergone by the keys regarding tourist development.
Source: www.invasor.cu
---
Related News
---