Animated 3 dimensional film Menique, first super production of its kind in Cuba
Submitted by: admin

06 / 09 / 2009
---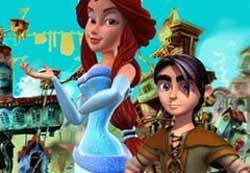 The animated 3 dimensional film Menique, first super production of its kind in Cuba, is moving along at a good rhythm with more than 100 cartoonists, painters, sculptors and set designers.
With script and direction of Ernesto Padron it is a large scale adventure in 3D with seductive music by Silvio Rodriguez.
Menique is an adaptation of a childrens story by Charles Perrault called Pulgarcito, of which Cuban writer Jose Marti recreated a version in his Golden Age from the latter part of the 18th century for children and adolescents.
Padron said Silvio was not only the main booster of the project but also the composer of the music of the film. He also collaborated with ideas on the history while the actors do the voices.
Locations for the film with local technology were selected in 2007 and a year later the film began to roll. According to estimates it should be finished in 2011.
The basic team is formed by two general producers, to production assistants and two producers from the Faculty of Computer Science of the University that supplied 45 students for manipulations, textures, programming, special effects and performance.
To date Padron explained that 104 artists and technicians as well as four layout painters, three character designers, a sculptor, 12 environment painters, 19 scene modelers, 12 character modelers, four scene designers and animators as well as other specialties.
Menique is a metaphor in which wisdom and intelligence overcome force through a tiny hero. Padron assures that it is also the germ of an idea of the Cuban Institute of Art and Film Industry that founded the 3D Animation Studio.
This studio not only produces shorts and features with this technology but offers assistance in special effects for Cuban films and others in Latin America.
(Trabajadores.cu)
---
Related News
---