Exclusive specimens and shelters more than 160 flora species, of Cuban flora in Sabanalamar Reserve
Submitted by: admin

05 / 07 / 2009
---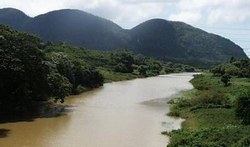 Among the plant formations stand out the populations of pine and mangrove, together with fresh water communities that proliferate in two rivers comprised inside the Sábalo-Cuyaguateje perimeter and some lakes.
According to local researchers, there is plentiful typical vegetation of that habitat in the lacustrine areas, including aquatic plants and nine insectivore species.
The experts make sure that one of the most curious inhabitants of that spot, located in Guane municipality, is the plynia octoclade, a tiny bush exclusive of the zone and currently in danger of extinction.
The flora of the place grows up in a soil made up of gravel and peat sediments from the Quaternary period, and is considered a marine accumulative plain with a high amount of quartz, 98 % pure.
The reserve covers over five thousand hectares, and it is only of its kind in the Island.
A significant number of birds find shelter in ancient ceibas and oaks, as well as in other exponents of the green universe that cover the region, located 180 kilometers from Havana.
A few meters from the forests there is a center for the reproduction of the American crocodile, where families have survived for three generations.
The crocodile breeding place contributes to the rescue of the reptile, threatened by hunters and the deterioration of their natural dwellings.  
(Guerrillero.cu)
---
Related News
---