16th International Graphic Humor Biennial 'Cuba 2009' In Defense of Humanity
Submitted by: admin

03 / 29 / 2009
---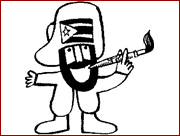 With the slogan 'Homo Sapiens SOS', the event is sponsored by the Cuban Journalists Association (UPEC), the UPEC Group of Humorists and Cartoonists, and the San Antonio de los Baños Museum of Humor.
Cosponsored by the Havana Provincial Culture Office and the Latin American Federation of Journalists (FELAP), this year's gathering is dedicated to the preservation of the human species, taking into account that today's world is plagued with greenhouse gases, the negative effects of climate change, mass media manipulation, deforestation, desertification, inequality, wars and xenophobia.
At a time when a privileged few irrationally try to protect their wealth, using food to produce bio-fuels, the planet urgently needs humorists and their ability to make people think, while laughing. In a world where the emptier and emptier stomachs of the poor protest against the endangering of jungles, forests and the air we breathe, humorist have a role to play in defense of humanity.
During a press conference, the organizers announced that there will be 402 works in competition by 125 artists from 26 nations, while the countries with the largest representation will be Cuba, Iran, Argentina, Turkey and China.
Professionals from around the world will participate in the graphic humor contest, which will include the following categories: general humor, political satire, cartoons, caricature and humorous photography.
The contest will grant the Eduardo Abela Special Award, consisting of 1,000 CUC (Cuban Convertible Pesos) to the winner of the first place, plus certificates to the winners of the first, second and third places in each category. Other Cuban cultural institutions will also grant awards.
Made up of such renowned figures as Cubans René de la Nuez, Tomás Rodríguez Zayas (Tomy), Alfredo Martirena and María Elena Arango, Russian Oleg Dergachov, Venezuelan María Centeno and Mexican Cintia Bolio, the jury will select a sample of the works submitted for an exhibit that will be inaugurated on March 30th at the 16th International Humor Salon in San Antonio de los Baños, on the outskirts of Havana.
Debates among different generations of graphic humorists, workshops, joint and personal exhibits, homage to artists and institutions are also included in the event's program, as well as the colloquium 'Museum of Humor: 30 Years Treasuring Cuba's and the World's Graphic Memory.'
This year's awards ceremony, at its traditional venue of the movie theatre in San Antonio de los Baños, will feature renowned Cuban and foreign artists, under the artistic direction of Pepe Ordaz. It will be a ceremony marked by elegance, good taste and of course, humor.
(Cubaperiodistas.cu)
---
Related News
---