A lot of Fina García Marruz, a Cuban tribute to a life of literary creation
Submitted by: admin

02 / 22 / 2009
---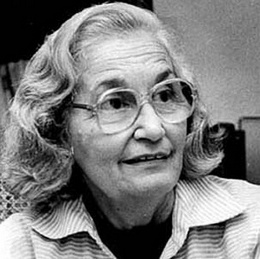 She wasn´t physically present, due to personal reasons, but what was exposed by the poet Roberto Fernández Retamar, president of the Casa de las Américas , and the evocation made of the essay writer by researcher Pedro Pablo Rodríguez were enough for the National Literature Award to preside the tribute.
Researcher Ivette Fuentes qualified her as a not very frequent brightness in poetry, while the scholar Enrique Saínz was categorical when he considered the work by García Marruz as monumental, as one of the most prominent voices in poetry and essay writing in Spanish language.
The energy, the feeling of being Cuban and the Revolutionary condition of this woman, expressed through her lifetime, and especially her poems with a social content, were highlighted during the reflections around the contributions of the woman who is also a Pablo Neruda Ibero-American Poetry Award in 2007.
Important researchers highlighted her essay writing, conceived as literature, with elegance, intelligence and shrewdness.
La Colección Sur , as part of the books that are presented in this edition of the Festival, brought a notebook with the poems En la muerte de Ernesto Che Guevara (In the death of Ernesto Che Guevara), written by Fina, and which is one of the most beautiful things written in the Heroic Guerilla Leader.
The books Poesía (Poetry) – a wide selection of her creation- and Ensayos (Essays) by the Letras Cubanas editorial house, were presented from this woman; as well as Estudios Delmontinos , by Unión, the most complete research on the Cuban intellectual Domingo del Monte, published for the first time.
(Cubarte)
---
Related News
---