José Ramón Machado Ventura Presides Cuban Delegation to Tenth Anniversary of the Bolivarian Revolution
Submitted by: admin

02 / 03 / 2009
---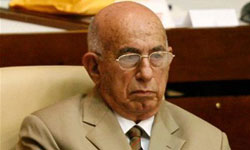 First Vice President José Ramón Machado Ventura arrived in Caracas on Sunday heading up Cuba's delegation to the 10th anniversary of the Venezuelan revolution taking place within the framework of an extraordinary summit of the Bolivarian Alternative for the Americas (ALBA) nations.
Throughout the last decade profound political, economic and social changes have occurred in Venezuela turning the country into an important international player and defender of a fairer world order based on multilateralism, non-alignment and solidarity.
At the same time, the government headed by President Hugo Chávez has worked tirelessly in favor of Latin American and Caribbean unity and integration. In 2004 it launched the ALBA, currently made up by six member countries from the region.
The presence in Caracas of the Cuban delegation is a show of gratitude, respect, admiration and support of the Cuban revolution for Chávez and the Bolivarian revolution. It also provides an opportunity to ratify the commitment to work together with the other ALBA governments and peoples.
Accompanying Machado Ventura is Foreign Minister Felipe Perez Roque, Central Bank President Francisco Soberon Valdes, and Osvaldo Martinez, who heads the Economic Affairs Committee of the Cuban parliament.
(ACN)
---
Related News
---