A Canary owner's debt keeps eight Cuban seamen confined at Morocco
Submitted by: admin

01 / 21 / 2009
---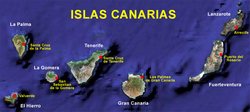 The crew is kept in an Alawian port since a year ago
Barreto Acuña's debts with the Alawian kingdom keep the cargo vessel held at Safi port, at the South region of the country. "We are owed more than 300 000 pesos to the ship and our crew, we can not leave from here without collecting our money, we can not give up our salaries after all we have gone through" Carlos, one of the seamen says.
The working out of the situation seems to be complicated since there is not diplomatic relations between Morocco and Cuba. That the ship sails with a Panamanian flag and sailors being from Cuba, the shipowner being from Canary Island  and  staying the ship at a  Morroco port does not make things easy either, the delegate of this Stella Maris agency from Canary Island, Juan Esteban Rodríguez explains who is trying to help the crew since it got in touch with him.
"Stella Maris is behaving very well with us, it is helping a lot" Carlos says at the other side of the phone. The agency has sent them blankets and coats to face the weather contingencies, weather here is very cold during the last months in this region of Morocco. "We have also received some money, with which we have been able to buy some fuel, the one we rationalise in order to keep heating and electricity on board."
Carlos assures they are going to be there until the shipowner commits him to pay them. "This is very hard and we live here from charity organisations such as Stella Maris or the Moroccan people themselves who give us food whenever they can" but seamen do not think to give up." It has been too much effort and time without our families as to return to Cuba without a dime."
They have also asked by means of the Stella Maris Agency to the Spanish government to apply the conflict provision since the owner is Spanish. It is not the first time this owner leaves its crew at the mercy of God. He had done it before with other ships such as La Guajira, Tribox and Gelfo.
A call at the end of the year
Furthermore, sailors have practically been without communication with their families, they are very worried because of the crew's fate. "Thanks to our enterprise in Cuba we could contact our people for the End of the Year, on December 30, but it is not easy for us to talk to them, we do not have economic resources to talk and relieve them."
Their situation is very complicated, Stella Maris' agent say,  and went on saying: besides Safi is an industrial port mostly dedicated to the loading and unloading of pollutant materials such as sulphur or phosphates, the seamen's health is beginning to fail and they are afraid to suffer diseases caused by these products' exposure.
I spite of not loosing hope, they did loose their confidence with respect to the conflict provision to get to the shipowner' s hands. "He committed himself to pay us half of our wages and take us out of here but he has not fulfilled anything and we do not expect him to do so"  due to the legal gaps prevailing in this subject" delegate from Stella Maris complains who has asked for help to the Media Luna Roja and to the Cuban and Panamanian consulates.
In the meantime, Carlos and his mates keep on praying everyday. "We have suffered a lot, we and our families, we only want us to be given what is ours, our money, the one we have earned with out work."  
(La Voz de Lanzarote)
---
Related News
---