In Cuba: 10th International Documentary Film Festival "Santiago Alvarez in memoriam"
Submitted by: admin

01 / 03 / 2009
---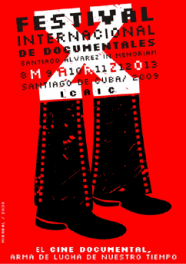 Devoted to the memory of Santiago Álvarez, one of the greatest documentary filmmakers, an example of artistic creation and of commitment with fair causes, the Festival promotes works devoted to big issues in contemporary world and to reflection on the role of documentary films in present times.
At a time in which media power is attempting to establish a globalize culture and a single thought, documentary film-making, while ratifying itself as an artistic genre, revalidates its resistance capacity to confront manipulation, and rescues the multiple realities that have been silenced or twisted by the big media.
OFFICIAL COMPETITION
Filmmakers from any corner of the world are invited to take part, with works filmed in 35mm, 16 mm or video, at any time after the year 2005. Video copies from works done in 35 or 16 mm are also admitted. All works should be originally in Spanish or with Spanish subtitles. As an exception works originally filmed in English language or with English subtitles will be accepted, if they come accompanied with a list of dialogues in Spanish language. Video copies shall be in NTSC or PAL, VHS, DVD or DVCAM format (the latter only in NTSC). BETACAM copies are not accepted.
Projects for documentary films will be also accepted in the competition. Projects shall be accompanied by a synopsis and a detailed description.
The Official Jury, formed by personalities in the field of cinema and culture in general, shall grant the "Santiago Álvarez" Main Award and also a First, Second and Third Prizes, as well as awards for direction, script, editing, photography and sound design. New creators shall get an award for the Best Opera Prima and a Special Awards to the best work done collectively by a group of filmmakers under 35 year old.
The Escuela Internacional de Cine y Televisión in San Antonio de los Baños, Cuba, will grant a Special Award in a form of a scholarship to attend an International Workshop specialized on documentary film-making.
The Oficina "Santiago Álvarez", from ICAIC and the Fundacion Amazonia Films, will present the "Santiago Alvarez" Main Award.
Telesur network shall grant an award to the best social documentary film done on a Latin American issue, consisting in US$ 5000.00.
Other cultural institutions will present awards granted by their own juries.
PARALLEL SHOWINGS
Cinema and video halls in Santiago de Cuba will present parallel showings and the University of Oriente and other study centres will do the same, in order to enrich information on documentary film and to foster debate between participants and the public in general.
THEORETICAL SEMINAR
Theoretical conferences and seminars offered by world-level important figures will contribute to the making of this Festival one of the most popular in present times.
REGISTRY AND SENDING OF WORKS FOR COMPETITION
Deadline for registry and sending of materials is November 30, 2008.
The works that have been accepted will be informed before January 31, 2009.
All data requested in the form shall be supplied in order to facilitate the work done by the Selection Committee and to ensure all required information is included in the Catalogue of the Festival.
---
Related News
---