Brazilian filmmaker Orlando Senna: "The Cuban cinema international school as a unique one"
Submitted by: admin

12 / 14 / 2008
---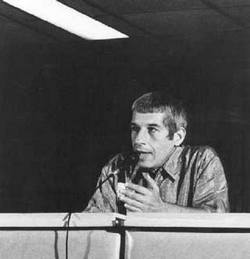 This school exchanges emotions between students and teachers and has a cultural and ethnic diversity. Senna stated in an exchange with the press, as part of the activities of the International Festival of the New Latin American Cinema that another fundamental aspect that differentiates it from the rest is the great support it receives from filmmakers from all over the world.
This centre, which forms filmmakers of the region, competes in this festival in the category Documentaries with La Chirola, made by the Bolivian Diego Mondaca and The Illusion of the Cuban Susana Barriaga. Both documentaries have had a good public acceptance.
The director of the institution, the Dominican Tanya Valette, is a graduate of the school and made a working balance of the last years. Among the highlights she mentioned the opening of the High Studies, dedicated to graduates, specialists and artists.
Its results are already visible, she explained, and the patrimony departments for the preservation of our audio visual as well as the genre, dedicated to the women from the Latin American countryside communities derived from this project.
The second edition of Nuevas miradas, that collects the projects under development, has as a novelty the advice of the Anglo – Italian academician Donald Ranvaud and of the Dutch Bianca Taal.
The French Sam Chauvin and Francis Kandel are also collaborating with directors from 12 countries.
The book, 33 essays about cinema, about famous world figures of the celluloid and the brochure Filmografía esencial a consult material for the students, are some of the 2008 publications.
The San Antonio de los Baños International Cinema and TV School was created in 1986 by the Colombian writer Gabriel Garcia Marquez and graduates students in direction, documentaries, scripts, photography, sound, production and editing.
(Cubarte)
---
Related News
---