In Santiago de Cuba: The Caribbean for Reform in World Finances
Submitted by: admin

12 / 09 / 2008
---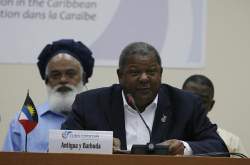 Goals of the Third Summit of heads of State and Government of Cuba and the 14 independent member countries of CARICOM include agreeing on actions to face the current financial conflict.
In this regard, president pro-tempore of the regional bloc demanded more democratization and regulation of financial policies and a more active UN role in international economy.
Prime Minister of Antigua and Barbuda and current president of CARICOM, Baldwin Spencer, also demanded a debt re-orientation to secure room for the most vulnerable economies.
He considered that the small Caribbean countries are facing greater challenges in the current chaotic situation, which puts social and economic achievements in danger.
Therefore, he urged for stepped up regional links to face "the dark shadow of the world financial crisis" and the effects of climate change.
In this regard, he highlighted recent entry of Cuba to the Group of Rio, as well as prospects of the coming Summit of Latin American and Caribbean Integration, in Brazil.
"We expect valuable, timely initiatives to create spaces for dialogue and integration," said Spencer.
He praised Cuba's wise leadership of the Non Aligned Movement and its role in the region.
Cuban President Raul Castro inaugurated the meeting to be in session the whole day, at the end of which a final declaration is expected to be approved.
Yesterday, the Caribbean leaders paid tribute to national heroes Jose Marti and Antonio Maceo and received a message of salutation from leader of the Cuban Revolution Fidel Castro.
(PL)
---
Related News
---