Russia Foreign Minister Stresses New Stage in Cuba Links
Submitted by: admin

11 / 12 / 2008
---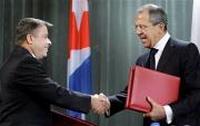 Lavrov said he welcomed with satisfaction the Cuban minister, who will close his four-day visit to Russia tomorrow.
The two countries maintain a close cooperation and make efforts to strengthen political dialogue and economic ties, the minister stressed at the end of the negotiations.
Lavrov and Perez Roque signed a Joint Declaration and the 2009 Plan for Inter-chancellery Political Consultations.
The Russian official also highlighted the importance to fulfil the Cuban resolution against the US blockade, recently approved at the UN General Assembly by overwhelming majority.
The two countries, he sustained, agree the world must renounce to unilateral and extraterritorial measures, while the UN preponderant role to counteract challenges and threats common to humanity grows.
Meanwhile, Perez Roque underlined the Cuban and Russian governments are willing to develop permanent relations, based on common approaches and mutual potentialities in several fields of cooperation.
He called his meeting with Lavrov cordial and open, and noted Russia and Cuba have the common interest of defending international law, the existence of a multipolar world, with no wars, where big and small countries can exert their right to development and peace.
(PL)
---
Related News
---