Cuba foresees stronger relations with Saudi Arabia following the recent opening of its embassy in Riyadh
Submitted by: admin

10 / 29 / 2008
---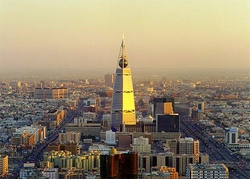 "We have been maintaining good relations with the Kingdom, but the establishment of the mission in Riyadh will step up cooperation between the two countries. The Cuban mission in the Kingdom is our third station in the Gulf after Kuwait and Qatar," he said.
Castro, who was previously the Cuban ambassador to Kuwait from 2004 to 2007, said Saudi Arabia is an important Gulf state, which his country would like to cooperate with in matters of mutual interests.
"Even before the mission was established, Cuba supported the Kingdom on all international issues and we have severed our diplomatic relations with Israel in support of the Palestinians," he added.
Thanking Custodian of the Two Holy Mosques King Abdullah and senior government officials for facilitating the establishment of the embassy in Riyadh, Castro said he hopes this gesture would be reciprocated with a mission in Cuba. The Saudi mission in neighboring Mexico currently looks after Cuban interests.
"Saudi philanthropists sent around $50,000 in voluntary contribution to assist 1.78 million Cubans affected by Hurricane Gustav," the ambassador said, expressing his thanks for the gesture. "There are several areas where the two countries could cooperate with each other, especially in the fields of tourism and investments," he said, adding that a group of Saudi journalists are currently in Cuba on a tour organized by a leading Saudi travel agent.
"This is only the first step in promoting Cuba as a tourist destination in the Kingdom. Many more activities between the two countries would follow in the coming months. Cuba is ideal for a Saudi family holiday; it is also a safe destination," said Castro. He added that the Cuban Embassy issues visas within 24 hours to Saudis and expatriates residing in the Kingdom.
Speaking about investments, Castro said there are several areas, such as medicine and technology, where Saudis could invest and receive attractive returns. "We need foreign investments to develop our country," he said, adding that the popular Havana cigars are exported to the Kingdom to the value of $1 million each year.
He said the Washington's trade embargo costs Cuba an estimated $232 million per year in lost foreign investment and more than $93 billion in total economic damage over the decades.
He added that Havana is not hopeful that the nearly 50-year-old sanctions would be lifted regardless of who becomes the next US president. However, Cuba is hopeful that Barack Obama will have a favorable approach toward the embargo.
(Arab News)  
---
Related News
---