The cuban singer of the Van Van orchestra Mayito Rivera performs in Canada
Submitted by: admin

10 / 29 / 2008
---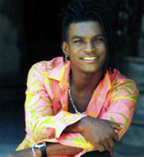 Mario Enrique Rivera Godinez (his true name) was born the 19 of January 1966 in Pinar del Rio, a birth province of great Cuban musicians, such as Enrique Jorrín, Miguelito Cuní and the Rubalcaba family.
He studied percussion for four years when he was a child until he entered the National Art School and the Higher Arts Institute.
Mayito, is a complete musician, famous for his voice, the improvisation possibilities and the versatility he has, that makes him capable to play different instruments, such as bass, guitar, piano, trumpet and the Cuban percussion.
For a while he placed the bass with the group Moncada, until he was called by Juan Formell, the leader of Van Van.
Since the moment when he sang his first them with the legendary band (Qué tiene Van Van), he immediately connected with the public.
Among his famous songs there are "Normal, natural", "Voy a publicar tu foto", "Un socio", "De La Habana a Matanzas", "El tren se va", "Llévala a tu vacilón", "Ay Dios ampárame" and "Soy todo".
(Cubarte)
---
Related News
---