The Cuban singer Amaury Pérez Vida: ´Aguas´ a renewed work
Submitted by: admin

10 / 23 / 2008
---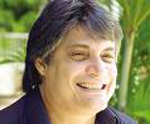 The same repertoire has accompanied Amaury everywhere these past several years because his fans have requested it. ´Aguas´, of course a vinyl record, combined, for the first time ever in Cuba, what is called here the ´new trova song´ with the prevailing tendencies of pop, jazz and rock music. It also further consolidated Amaury´s well-deserved reputation as a prestigious singer/songwriter of trova songs.
´Aguas´, preferred by both its author and this critic, has been edited quite a few times here in Cuba and with other titles in Peru, Mexico, Spain, Puerto Rico and Venezuela. Experts with Cuba´s EGREM Record Company consider it the best ever recorded in their studios and groups like Irakere use the master to improve their sound.
What is ´Aguas´ all about? First of all, it is a definitive U-turn by Amaury to embrace pop-rock music and other contemporary tendencies. Second, it is one of very few works in which the whole and each part centers around and supports a well-defined concept.Although the title ´Aguas´ was nowhere on the record´s jacket, the content flows along nicely, like water -- similar to Barbra Streisand´s LP ´Wet´ (1979).
Once you get in the currents, the excellent musical arrangement strikes you. The orchestration, by experienced, post-modernist Ricardo Eddy «Edito» Martínez, plays a decisive role, in the whole as well as in each separate part.
Perhaps the CD´s merits lie in its overall objective: to offer good songs, made in Cuba and intended primarily, though not only, for young people. With this work, its author aims towards a national expression, crafted in Cuba, though accepting any good contribution wherever it comes from: following Martí´s idea that the integration of different ideas and tendencies strengthens the essence of each one of them, which explains also the tremendous Cuban influence on popular rhythms all over the world.
Thematically speaking, eroticism prevails, though there is also the incisive social criticism in pieces like ´No lo van a impedir´. There is also a reference to such issues as alcoholism in ´El vino triste´, friendship in ´Yo tengo un amigo´ and even an attack against superficiality and defeatism in ´Aguas´. On the other hand, the work is like a collection of beautiful poems that show a prolific author that uses a colloquial, but refined language with plenty of literary resources, which gains the work a certain literary value as well.
Amaury again uses the four seasons to refer to the different states of mind, abundant bold metaphors, powerful images and what Spanish poet and literary critic Carlos Bousoño called ´a break with the system´ or paradox.
Musically speaking, we talked about the well assimilated foreign influence on the original work as well as the arrangements: from Kansas´ symphonic rock to Gino Vanelli´s music, including Chick Corea´s free jazz and the impressive keyboards of Frank Zappa, Elton John and Rick Wakeman and the typical flapping of trova music.
An excellent work, ´Aguas´ certainly led its author, Amaury Pérez, to the height of his artistic career.
Twenty-seven years after recording the original album, Amaury again immerses himself in those ´Aguas´ (Waters) to launch a new CD and a DVD (with similar elegance as Moltó´s design based on the pictures of Alderete), released by the Colibrí Record company of the Cuban Institute of Music.
The CD compiles the re-mastered pieces contained in the original ´Aguas´ with the impeccable work of Víctor Cicard. On the DVD, some of Amaury´s colleagues pay homage to him by singing some of the songs included in the original album.
The author himself chose a singer for each piece, according to their specific style, and this is perhaps the key to the success of the ´Aguas revisitadas´ (Revisited Waters), as this new (or renewed) project is entitled.
Among them stand out: the strong, powerful projection of such an excellent singer as Manuel Argudín in the song ´El vino triste´ (based on a poem by Argentinean Armando Tejada Gómez); Santiago Feliú´s rock style in ´Adonde el agua´; the lyricism that characterizes Beatriz Márquez in the piece ´A que te olvide´; the less philosophical, more passionate song ´Dame el otoño´, sung beautifully by Anabell López; the energy that characterizes Sara González in ´No lo van a impedir´; Kiki Corona´s tender voice in ´Aguas´ or the sensuous piece ´Soneto´ (sonnet) -- the other one not written by Amaury, but by none other than Nicolás Guillén --
sung impeccably by Liuba María Hevia.
Orchestrated by talented, creative musician José Manuel Ceruto, the new CD respects the original work, though revamping it through a new jazzed up version: emphasizing on percussion and wind instruments and tightening strings up to offer the public an experience true to the original, though enriched and revamped -- the work by Orestes Águila (mixing and recording).
The DVD includes a very revealing interview with the author, who explains in detail all the obstacles they had to overcome while immersed in such passionate adventure. It includes also a documentary entitled ´Ángel Alderete´ with moments of the new recording, all the songs, among them a new version of ´Vuela pena´ by great singer Omara Portuondo and Amaury himself singing a new rumba-style version of his famous piece ´Acuérdate de abril´. I assume that, like me, most people will prefer the original song, but it is certainly salutary when, from time to time, singer/songwriters go back to their previous work and revamp it.
So, these renewed ´Aguas´ have gone far from their beautiful, original source into a world of sound and verses that, more than a quarter of a century after the original recording, offers a delicate, more refined work -- as if accurately touching that line that some call ´the horizon.´
(www.jrebelde.cubaweb.cu)
---
Related News
---