Awarded Italian intellectual friend Danielle Lorenzi by Abel Prieto Jiménez, Minister of Culture of Cuba
Submitted by: admin

10 / 23 / 2008
---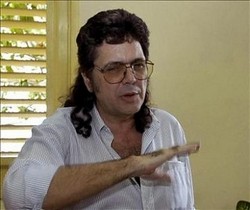 Abel Prieto Jiménez, Minister of Culture delivered the recognition to Lorenzi that praises his efforts and of the Asociación Recreativo-Cultural Italiana (ARCI) in the improvement of the cinema halls and of its programs in it, as well as the creation of musical shows.
The vice minister Fernando Rojas also said that the award of the Ministry of Culture, distinguishes the endless solidarity and confidence of Lorenzi in the Revolution, which he has defended against anti Cuban defamatory campaigns and restrictions, imposed by the criminal, US economic, financial and commercial blockade against the island.
Lorenzi, who was visible touched, thanked the gesture and assured in Italy he will share this moment with his colleagues in the ARCI, while pay tribute to the diseased Loris Romagnolis and Tom Benelotto.
This promoter of the Cuban truth in the world assured the distinction jeans a new encouragement to continue working, ´together with the sons of this nation, full of poetry that gave him an unprecedented emotion´.  
Miguel Barnet, president of UNEAC, poet Pablo Armando Fernández, Doménico Vecchioni, Italian ambassador in Cuba, the filmmaker Paolo Virzi and the invited delegation to the Exhibition of Young Italian Cinema that will last until Sunday the 19, took part in the ceremony.
 (Cubarte)
---
Related News
---