Cuban poet and filmmaker Víctor Casaus and artist Eduardo Moltó at 13th Ourense International Film Festival
Submitted by: admin

10 / 17 / 2008
---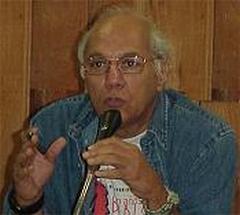 Casaus, Director of the Pablo de la Torriente Brau Cultural Center, is participating as a member of the jury. He is also exhibiting some of the prizewinning works at the digital art festivals organized by the Havana-based cultural center. Casaus is also scheduled to give a conference on the role of digital art as a contemporary artistic expression.
Eduardo Moltó, for his part, is presenting a retrospective of his work, which is closely linked to the Pablo de la Torriente Brau Cultural Center. It includes his participation in the digital art festivals, both as a prizewinning artist and on certain occasions, a member of the event's jury.
The Ourense International Film Festival, which celebrates diversity and intercultural dialogue, is the longest-running and most important film event in Galicia. It is aimed at facilitating exchange between artists from the autonomous Spanish region and Europe, Ibero-America and the rest of the world, thus promoting co-productions and the distribution of audiovisual materials.
There are 114 works in competition from nearly 80 nations. The event's program also includes the screening of 170 works, grouped according to their subject matter, and 87 Galician films.
For the first time ever, this year's event includes a category dedicated to animated films and another one dedicated to new artistic expressions, including digital art, of which the Havana-based Pablo de la Torriente Brau Cultural Center is considered a pioneer here in Cuba and in the rest of Latin America.
(Centro Pablo de la Torriente Brau )
---
Related News
---