Lincoln Diaz-Balart, Raul Martinez rip each other over Cuba, taxes in District 21 debate
Submitted by: admin

10 / 16 / 2008
---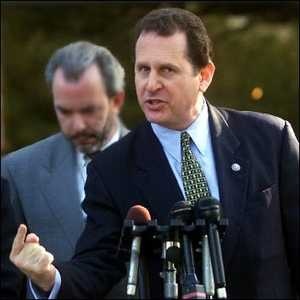 Pressed on statements he has made that he couldn't work with fellow Miami Rep. Ileana Ros-Lehtinen if he is elected, Martinez demurred.
''It's going to be difficult,'' he acknowledged, after saying, ``I would be able to work with the majority of the people in Congress.''
Martinez blames Ros-Lehtinen's husband, former Miami U.S. Attorney Dexter Lehtinen, for Martinez's federal corruption indictment in 1990. But he suggested that Diaz-Balart is the one who can't get along, charging
that the Republican incumbent speaks poorly of others when he is on Spanish language radio.
''You call them names, you say that they're communists,'' Martinez said, in the most spirited televised exchange yet between the two rivals. The debate was held and recorded Monday.
''No, no,'' Diaz-Balart retorted. ``You're the one who goes on calling an opponent in a race a coward and repeatedly does that, you're the one who does that.''
With less than three weeks to go before the election and a collection of polls suggesting a hotly competitive race, the men wasted little time ripping into each other, after largely agreeing that more needs to be done to
help homeowners hit by the foreclosure crisis.
Diaz-Balart said he had worked with the U.S. Postal Service to provide more housing for low-income elderly people on property owned by the agency, but Martinez contended he has moved faster to provide housing in
Hialeah.
Diaz-Balart defended his two votes against the recently approved federal bailout package, which Martinez also opposed. They also both backed House Speaker Nancy Pelosi's call for a second stimulus package --
which House Republican leaders have called ``irresponsible.''
They sparred over taxes, with Martinez proposing ending ``tax breaks that have been given to companies and to individuals that take the money and take the jobs out of this country.''
Diaz-Balart said that by calling for an end to tax breaks, Martinez was ``advocating tax increases. I think that at this point with the delicate nature of the economy, with the way in which people are hurting, small businesses are hurting, jobs are being lost, the worst thing we could do is to increase taxes on small businesses and on individuals.''
But Martinez said those making less than $250,000 ``would not get hurt at all.''
The two also debated Diaz-Balart's record, with Martinez noting Diaz-Balart has passed only one bill in 16 years. Diaz-Balart called the assertion ''ridiculous,'' noting several successful pieces of legislation he has championed, including a 1997 measure that prevented the deportation of thousands of Central Americans.
''That was [Rep.] Luis Gutierrez,'' Martinez said. Diaz-Balart, who was one of the primary authors of the legislation and whom immigration advocates credit with passing the measure, looked incredulous and suggested Martinez was ``hallucinating.''
Martinez shot back: ``I'm not hallucinating. I was here. I was here.'' Diaz-Balart rejected assertions that he focuses only on Cuba, saying the news media covers his involvement with Cuba ``more than any other issue.''
The pair also diverged on U.S.-Cuba policy, with Diaz-Balart cautioning against loosening any restrictions ``until there is the liberation of all political prisoners and scheduling of free elections.
''And by the way, that's the position I supported with regard to Iran, and the position that I supported with regard to South Africa,'' Diaz-Balart said. ``I'm consistent and I think we have to fight for human rights not only in Cuba, but around the world.''
But Martinez said he hears complaints about Cuba travel restrictions from folks in factories and beauty parlors who want to visit family but are barred from going more than once every three years because of U.S. policy.
''That's not what America is all about, and I'm saying lift those restrictions,'' Martinez said. ``Allow family-to-family travel. Allow the families to connect to each other and then we can work on all the other issues.''
Martinez sought to shrug off what the moderator called his ''checkered history,'' which includes a tussle with a street protester and the corruption conviction, which was reversed on appeal, saying he is ``very passionate, and I will be passionate to defend the interests of people in District 21.''
(Miami Herald)
---
Related News
---