In Ciego de Ávila, Cuba: Promote in blind from incorporation of women to the employment
Submitted by: admin

10 / 03 / 2008
---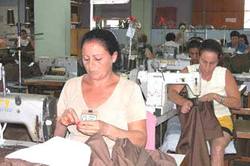 During the stage the feminine presence was increased in sectors like the Health, the Education and the Slight Industry, this last one increased its possibilities empleadoras starting from the reanimación of the six shops of the Company of Makings Clover that exist in Blind of Ávila.
This entity promotes, also, training for all the people that possess abilities in the art of sewing, at the time that power the creation local with the necessary conditions for the care of the children of the workers.
Odalis Álvarez Aerie, member of the provincial secretariat of the FMC, informed that the feminine organization also promotes the benefit of hairdresser services and barber's shop in the hospitals Roberto Rodríguez of the municipality of Moron, and Antonio Luaces Iraola located in the provincial capital.
The implementation of this initiative that benefits workers and patient of both institutions, it is possible starting from the disposition of those trained in these occupations in the Houses of Orientation of the Woman and the Family.
At the present time the avileñas represents the population's 43 percent that works in positions of the economy and the services in the territory, and more than 200 of them they occupy administrative positions.
(Invasor.cu)
---
Related News
---