Cuban President Raúl Castro postponed until 2009 the Bastion 2008 Strategic Military Maneuvers
Submitted by: admin

09 / 14 / 2008
---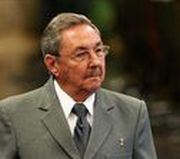 This postponement will strengthen the exercise with valuable experiences from rigorous and profound analyses regarding the natural disasters that seriously affected the island, he expressed.
According to the MINFAR (Armed revolutionary Forces Ministry) report, the decision is related to affectations from recent hurricanes on economic, productive and service activities, as well as national infrastructure in general.
The Granma report says this situation demands an intense, effective and prolonged process of recovery.
(PL)
---
Related News
---