Members of the ARO International Solidarity Organization, from Québec, Canada; are visiting Cuba
Submitted by: admin

08 / 19 / 2008
---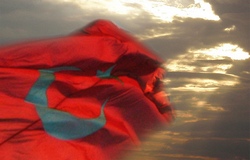 For the first time in the schedule, the visit includes the Family Camping program, which brings the brigadiers closer to Cuban homes.
Leading the brigade comes Colette Lavergn, speaker of the Québec – Cuba Solidarity Board, who explained that this time, children and adolescents aged from five to 17 years and their parents have joined the group willing to know the reality of the Caribbean island and the idiosyncrasy of its people.
For such a reason, the Provincial palace of Pioneers -where they have been accommodated- has conducted workshops on the protection of the environment, and has offered lessons in how to communicate in Spanish language and in Cuban traditional dances.
In addition, it was organized a voluntary work at Camaguey Provincial Children's Hospital "Eduardo Agramonte Piña".
For 15 years these visits have taken place in the island coordinated by the ARO International Solidarity Organization and the Québec – Cuba Solidarity Board, thanks to them some 4 000 Quebecers have been able to refute the slanders launched against Cuba.
The current visit will end on August 21, and it includes also meetings in favor the cause of the Cuban Five, who are serving unjust sentences in US jails for confronting state-sponsored terrorism in southern Florida.
 (Radio Cadena Agramonte)       
---
Related News
---