Mariana Grajales the glorious mother of all Cubans in the 193 anniversary of her birth
Submitted by: admin

06 / 27 / 2008
---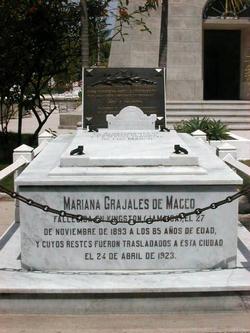 A legendary oriental "mambisa", symbol of the Cuban woman of solid independent roots and of entire devotion to the Revolution, that made her proverbial in the redeeming woods.
She rises inside those women that left home and family safety behind to give their best for the freedom of the subjugated Homeland, demanding nothing in return; she joined the rebellious struggles since October 1868.
With courage and patriotism, she set a tradition of sacrifice and love for her nation that endures up to these days.
Her strong will was combined with humanism; in the battlefield she assisted both the Spanish and the injured men without any distinction.
She had the high honor of having offered to the independence struggles 10 brave soldiers, colossus titans, who inherited from their parents the highest ethical and moral values and the most beautiful feeling that is possible to inherit: the nation love. She inculcated to her children an unbreakable energy through her example.
This virtuous and stoic woman is considered the most excellent Cuban of all times. The civic lessons of the paradigmatic Mariana come to our days as an incentive to defend this Homeland and this Revolution for which so many men and women have fought, makers of our history, who deserve eternal gratitude.
Martí defined her as a faithful revolutionary that while her husband was lying moribund, was encouraging her compatriots to continue in the struggle. About her we say as he did, she will be always remembered with love, and especially today, June 26, anniversary 193 of her birth.
(Guerrillero.co.cu)
---
Related News
---