Fina García Marruz, that great lady of the Cuban poetry, turns 85 years of brilliant existence
Submitted by: admin

05 / 02 / 2008
---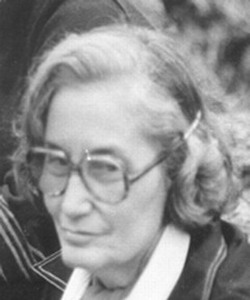 There is a lot of that in her poetry, a peculiar cartography that discovers for us a calm, but intense woman; with delicate sensibility, but also with an invincible character; humble, perhaps; but aware of her greatness.
Since her first poems, written in her early youth, Fina has avoided the empty and grandiloquent phrase, the unnatural metaphor and the high-handed structure. He always preferred an elaborated simplicity that doesn't surrender easily to the reader, because it needs certain empathy and complicity. Fina is always found in her poems and this might seem obvious, but in her particular case you feel that the poet never abandons the conscience of her being, her identity, her nature, and her truth.
Poems, of 1942; Transfiguration of Jesus del Monte, of 1947; The Lost Looks, of 1951; Visitations, of 1970; Credits of Charlot, 1990; The Rembrandt of the Hermitage, 1992; Old Melodies, of 1993; Elementary Notions and Some Elegies, of 1994; the Poetic Anthology published in 1997, among other poem books which are more recent and poems that published in magazines and multiple anthologies; that entire work, worth and significant for several generations of readers, summarizes commitment and coherence.
For some of us it may seem too abundant. But Fina, as we have said, prefers to remain silent and she just brings to the light the essential verses. Besides, her poetic work transcends the poem books, because her excellent essay works, her prose of elevated flight and deep ideal, overflow with poetry, delicate poetry, in the most literal sense of the word.
Fina García Marruz, the member of the group Origenes, regular collaborator of that mythical magazine; the studious and faithful follower of Marti; the worthy and consequent woman has received the most important recognitions in Cuban literature. But she has never needed prizes to prove the greatness of her poetry. A single of her poems can prove this.
(
www.cubasi.cu
)
---
Related News
---