Sixth Edition of the International Festival of Poor Cinema in Gibara, Cuba
Submitted by: admin

04 / 14 / 2008
---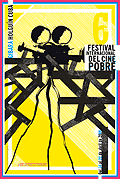 This sixth edition, to be opened with the Cuban film Personal Belongings made by Alejandro Bruges, will show about 120 productions from 20 countries, among them Palestine, Greece, Italy, Spain, Brazil, Mexico, Uruguay and Cuba. The event will recall the memory of Octavio Cortazar through the showing of his main work, the documentary Por Primera Vez (For the first time).
The audio visual program will be completed by theory events, with famous speakers, such as the French writer and researcher Hervé Fischer and the Cubans Enrique Pineda Barnet, Raul Martín and Carlos Lechuga.
The president of the organising committee, Humberto Solas, explained yesterday to the press that the Festival, to be held also in Holguin, Santiago de Cuba and Camaguey, keeps its spirit of a liberating cinema that makes no concessions to the cinematographic multinational companies and became a kind of communitarian cultural laboratory with the intervention of different artistic expressions.
In order to achieve that the Festival has a Wide program with important exponents of the Cuban contemporary music, such as Carlos Varela, Raúl Paz, Polito Ibáñez, David Blanco, Haydée Milanés, Ogguere, Diana Fuentes, Rochy, Alexis Bosch and Harold López Nussa, who will alternate in the Gibara nights with the sounds of a number of DJ's.
The city will also host the opening of a Hall of Contemporary Art, where will be exhibit paintings of the Spanish artist Javier Mariscal and of the Cuban artists Agustín Bejarano, Alicia Leal, Cosme Proenza, Joel Jover, Nelson Domínguez, Osneldo García, Marta Jiménez y William Hernández among many others. The Hall will also present parallel exhibitions in which will be showed Galician movies given by the Galician Board, documentaries about the effects of the neo liberal globalization and digital works by the Pablo de la Torriente Brau Centre.
(
www.granma.co.cu
)
---
Related News
---