Montreal Cuban art show appeals to Americans curious about socialist culture; 'Art is stronger than politics'
Submitted by: admin

02 / 24 / 2008
---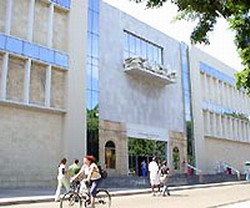 While Cuba has developed a conspicuous presence in world politics for a tiny island country, its artists have been largely forgotten, or worse, ignored.

But a landmark exhibit at the Montreal Museum of Fine Arts is making a convincing argument that Cuba's painters, photographers and multimedia impresarios deserve the same attention as the country's political system.

Little surprise then that politics and geography reappear throughout this history of Cuban art from 1868 to the present.

"As soon as you want to do something with Cuba you have to deal with the politics," said Nathalie Bondil, the museum's director and the show's curator.

"Cuban artists cannot forget the fact they are from Cuba and they are always linked to the island and to the social reality of the island."

Bondil nevertheless pledges her show, which includes more than 400 images and objects, is apolitical. Either way, she has assembled what is arguably the most comprehensive foreign retrospective of Cuban art of the last 50 years.

The scope of the exhibit hasn't gone unnoticed by Americans curious about the culture of a country that has been mostly cut off from them thanks to a 47-year-old embargo.

Articles in the New York Times and the Boston Globe, among other U.S. publications, have marvelled at the depth and range of artistic expression from a country with fewer than 12 million people.

"It is just a show, but art is very strong," said Bondil. "Art is stronger than politics."

She acknowledges there is a "forbidden fruit" appeal for Americans discovering masters like Marcelo Pogolotti, who are little-known outside Cuba.

"There are so many American museums who would like to have such an exhibition," she said. "Now it's not possible, so it was a perfect time for us."

The works, many on loan from the National Museum of Fine Arts in Havana, are arranged chronologically.

Traditional landscape paintings give way to sections on early avant-garde movements and the surrealist genius of Wifredo Lam.

An impressive collection of graphic art serves to illustrate the ideological jump from Fulgencio Batista's Cuba to Fidel Castro's.

At the same time, the Pop Art-inspired posters of the 1960s - some emblazoned with images of Che Guevara, others with calls to conserve electricity - demonstrate that no guerrilla group has done a better job of marketing its revolution.

One of the world's most reproduced photographs, after all, is of a beret-clad Guevara staring resolutely into the distance. The original print of Alberto Korda's iconic shot, on display in Montreal, is alone worth the price of admission for champagne socialists.

As the exhibit reaches more contemporary work, there's a palpable tension between identity and politics.

"Cuban art has traditionally been concerned with the different stages of the development of a nation," said Antonio Fernandez, a Cuban art critic and artist also known as Tonel. "Contemporary artists are drawing from that tradition."

"Cuba! A Voyage through This Island's Art and History, from 1868 to Today" runs until June 8, 2008.

Source: The Sudbury Star
---
Related News
---