"Ofelias", written by Aida Bahr, awarded the Alejo Carpentier Prize 2007 in the Short Story category.
Submitted by: admin

02 / 18 / 2008
---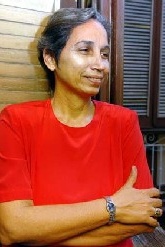 Many Cuban authors have referred to womens inner world, making it the subject matter of novels, short stories and poems, with not few successes.
However, Bahrs book stands out for her rigorous dissection, with stark realism, of psycho-social situations associated with mistaken self-assessments that cause disorders, driving people to extreme alienation.
The writer tackles such sacred issues as pregnancy (in the short story "Indefiniciones"), especially some conflicts associated with it, to the point that the reader questions to what extend a woman is entitled to feel frustrated with the birth of her unplanned child.
On the other hand, submission, presented so extraordinarily in the story "Colores y la mirada del tigre", is just another issue tackled by Aida Bahr with special sharpness. In both stories, the family (mother and father) deprive the protagonist of her right to self-determination and then, she creates morbid fantasies as a way to escape inwardly from the burden that has turned her into a propitiatory victim of outrage and humiliation.
"Fugas" is a praiseworthy text in which a small girl faces an extreme situation, resulting from the lack of attention and even the rejection she gets from the adults around her. They condemned her to marginalization and madness, which according to her mother, was a common illness in older people. However, throughout the story, it affects all three main female characters.
The issue of homosexuality is tackled subtly in the story "Juegos de mujer". What stands out is the tension, the confusion between infidelity and the change in sexual orientation, the contradiction between the protagonists wish to fulfill herself and the impossibility of achieving it, which drives her to desire a definitive, painful escape.
Each and every one of the seven stories in the book is praiseworthy because all of them deal with private affairs, without resorting to worn-out resources as the false monologue or the confession that are mostly the authors and not the characters.
With "Ofelias", Aida Bahr takes a firm step in her career as a short-story writer, while suggesting a rather original way to deal with female issues from a realistic perspective, using the necessary terms and driving the reader closer to the abysses of human behavior.
The book "Las Voces y los ecos" established Aida Bahrs reputation as one of the best women novelists in Cuba, just as her book "Ofelias" places her among those who write short stories with great mastery and without sexual complex.
I totally agree with essayist Zaida Capote when she affirms that this book is feminist. It is indeed a feminist book of universal caliber that reveals how terrible it could be sometimes to be a woman in a context dominated by the old patriarchal education and thinking. "Ofelias" is a book that women, as well as men, should read.
(
www.granma.co.cu
)
---
Related News
---