The 6th Summit of the Bolivarian Alternative for the Peoples of America (ALBA) Began in Caracas at the Expert Level.
Submitted by: admin

01 / 26 / 2008
---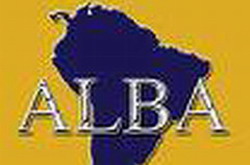 The 6th Summit of the Bolivarian Alternative for the Peoples of America (ALBA) began on Thursday in Caracas at the expert level with technical meetings. However, the gathering will reach its climax on Saturday with the meeting of the heads of states of the member nations - Cuba, Venezuela, Bolivia and Nicaragua, or their representatives.
The Council of Social Movements of ALBA also began its sessions. This body came into being as the result of an initiative of Venezuelan President Hugo Chavez during the 5th Summit. It is meeting for the first time and includes the participation of delegates from mass organizations from the abovementioned countries.
The delegates, who began to arrive on Wednesday afternoon, will discuss regional integration and hemispheric issues, reported the Venezuelan media.
The representation of the social groups is an expression of ALBA's scope, which "contrary to US-backed proposals for "free" bilateral trade" is based on cooperation and what is beneficial for the peoples of the region, reported the Prensa Latina news agency. The project would not be the mechanism needed to unite people if it lacked the participation of social movements, said Chavez.
The meeting of social organizations is one of the highlights of the summit, along with the anticipated new membership of the island of Dominica and the approval of the ALBA Bank, said one dispatch.
Rafael Isea, the Venezuelan minister of Finance, said that the constituent agreement on the Bank is almost 95 percent ready. Progress is also being made on the issue of the capital of the new institution. Once both aspects have been decided upon, the Ministerial Council will present the conclusions, which will be analyzed and likely signed by the presidents of the banking group.
Isea stressed that the bank will be a fundamental financial tool with an executive but subordinated to the political guidelines of ALBA.
During the heads of states meeting on Saturday, new cooperation agreements will be signed among members of this mechanism of Latin American and Caribbean integration.
(
www.juventudrebelde.co.cu
)
---
Related News
---