The Cuban Oil plant has refined its first 65,000 barrels
Submitted by: admin

01 / 19 / 2008
---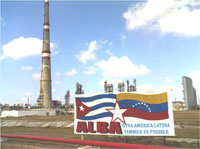 The plant has refined its first 65,000 barrels of oil, from which it will produce fuel oil, diesel fuel, naphtha, turbo oil and gasoline
The Camilo Cienfuegos oil refinery began to process crude with the efficiency expected in its operating plan, reported the Cuban News Agency.
Managers of the facility, located in the southern Cuban port city of Cienfuegos, explained to the press that the plant has refined its first 65,000 barrels of oil, from which it will produce fuel oil, diesel, naphtha, turbo oil and gasoline - the production of which will occur at the end of this month. A Venezuelan-Cuban joint venture, the refinery is expected to eventually have a capacity of 109,000 barrels per day.
The plant's technical personnel have also worked on the expansion of storage capacity at the refinery through the assembly of a 50,000 cubic meter geodesic dome.
The industry's current functioning was said to provide greater environmental protection and greater security in manufacturing processes.
With the start up of this processing plant, the base has been laid for the construction of a entire petrochemical complex serving the Caribbean region. The project is backed by agreements between Cuba and Venezuela as part of the ALBA (Bolivarian Alternative for the Americas) Latin American/Caribbean integration effort.
(
www.juventudrebelde.co.cu
)
---
Related News
---