To return Casa de las Américas Award
Submitted by: admin

01 / 02 / 2008
---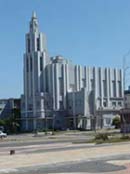 Casa de las Américas comes back to the prime site of Latin American literature with its well known and important awards, which will become 49 years of existance in the continental literature environment, when during the days between January 21 to 31, 2008 they develop the event of exchange between creators, the reading of books and the handing in of the awards as every other year. The jury, which has not been officially announced yet, will meet together in Havana City.
Unpublished books in the genres of poetry, stories and essays as well as with historic and social themes, from Latin American authors, who are born here or have been naturalized in the area are competing in this occasion. Writers from any other non-Latin American nationality are also allowed to compete in the category of essay, as long as their work deals with Latin America or the Caribbean.
Also, authors from Brazil are also allowed to participate in the competition with non-fiction books written in Portuguese and published in that language during the years 2006-2007, and French speaking Caribbean texts with a piece written in that language or in Creole in the period 2004-2007, according to the announcement.
The Casa de las Américas will also hand in the three awards with an honorific character: the José Lezama Lima, in poetry; José María Arguedas, in fiction and Ezequiel Martínez Estrada, in essays to those relevant pieces written by authors from the region and which have been nominated by a committee created for that purpose. In January 2007 those honor prizes went to writers from Costa Rica, Argentina, Brazil, Colombia, Uruguay and Cuba.
The Casa de las Américas Award is handed in every year by the Casa de las Américas in Havana. It was originally named Concurso Literario Hispanoamericano (Hispanic-American Literary Contest) in 1960, it went on to become Concurso Literario Latinoamericano (Latin American Literary Contest) in 1964 and finally in 1965 it took its current name.
Since its creation, the main awarding categories are poetry, stories, novels, theatre and essays. Afterwards there were some other added such as testimonies in 1970, literature for children and young people in 1975, English Caribbean literature in 1975, French Caribbean Literature in 1979, Brazilian literature in 1980 and Indigenous Literature in 1994.
(
www.trabajadores.co.cu
)
---
Related News
---