The ballet "Tema y variaciones" is 60 years old now
Submitted by: admin

01 / 01 / 2008
---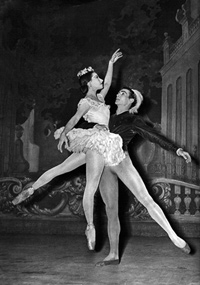 If Alicia Alonso had been deprived of the capacity to speak, her hands would be her voice. When she speaks, she emphasizes through the gesture, and her movements are so eloquent that it seems as if dance had taken over her arms. She is sitting on an extremely white armchair. Her crossed legs are a sort of Italian changement de pied that shows her anthological en dehors . The feet draw that same position - to rest she assures - that even today makes critics, dancers and audience speak about the "fifth Alonso".
Tita, Sissi and Robbin, three female dogs of enigmatic pedigree, fight to catch the attention of the owner who, smiling, tries to please the three adversaries. There is a steaming cup of coffee - really good! But I don't like it so hot - which her Chinese-princess' fingers, with thousand-year-old legend like nails, turn over from time to time.
Yes, beyond any doubt George Balanchine has a special place among those masters and choreographers with whom I was very linked in the Ballet Theatre, she tells me, at the same time that she caresses one of her peculiar eyebrows.
He was one of the ones who contributed most to my artistic evolution. Fernando and I arrived in the United States in 1938. At that time Balanchine was my professor at the School of American Ballet , and later, when I became a member of what is today the American Ballet Theatre, I worked directly with him in several of his choreographies.
In which choreographies, Alicia?
I remember Waltz Academy , Apollo and, very specially, Tema y variaciones (Theme and variations).
Tema y variaciones, with music by Pior Ilich Tchaikovsky - Suite for orchestra, No. 3 in Sol Mayor - celebrates the 60 anniversary of its premier, on November 26 th , 1947, at the City Center of New York . You have defined it as your "richest experience with Balanchine"...
Alicia doesn't let me continue. She crosses her hands. With a very fast gesture she separates them again. Suddenly, her nails begin to hammer on the table's glass. She knows I'm provoking her with my question. The titans duel that the staging of that ballet meant is already part of legend. Alicia Alonso and Igor Youskévitch - one of the most famous pairs in the whole dance history - gave passion and life to each movement, which was far away of the way from Balanchine's conception of choreographic art.
The Russian- American master firmly trusted the self-sufficiency of ballet, so his choreographic poetics was based on the principle that neither the argument nor scenography, nor costume should distract the attention from the main meaning of the ballet: the dance itself; the dance in its pure state.
That is the reason why most of his ballets are abstractions, whether of the music on which they are choreographed or of the themes in which they are inspired.
So, then, during the staging of Tema... the choreographer began to add new movements and difficulties, so that the dancers would concentrate only on ballet and technique, how ever it didn't work that way. The more difficult it turned, the more expressiveness and dedication showed the dancers... And Balanchine gave up.
And so, when the choreography had its premier, the audience could enjoy one of the most difficult works, from the technical point of view, within the whole choreographic catalogue of Balanchine.
In Tema... Igor and I worked very hard. We had a very particular way to conceive the dance in pairs, which, in our opinion, had to be expressive, warm..., like a conversation, like a dialogue. This, of course, was very far from the ways that Balanchine had established. As a choreographer, the most important thing for him was the metric, the phrasing.
Alicia, was Tema and variaciones really as difficult as it has been said?
Of course, it demanded a lot of technique from me as well as from Igor. Balanchine learned that Youskévitch was not very pleased with his variation, since according to Igor there was little technique in it. And then he told him: "Well, then let's do a more brilliant variation for you. Let us choreograph something more complex. You'll see..." That's how one of the most difficult variations with one of the greatest technical virtuosity was born, among all the ones conceived by Balanchine. In the end, Igor told him smiling: "Thanks for killing me".
With respect to me, it was also a very hard work, very intense. Sometimes I got desperate, since Balanchine took a four-time and asked me to dance it as five. And I felt a beat behind me while I was turning, as if the music were chasing me. On the other hand he was so musical - he mastered music so much, that some times he directed the rehearsals holding the score in his hand or read it to take care of the details -, that one always ended on time. This required a lot of concentration.
"He was challenging me all the time in this creation, setting a kind of struggle between my technical strength and the choreography. He challenged me by asking: "Do you think you could do an entrechat-six here?", and I answered: "I will". Then he added: "Could you now do pas de chat en tournament ?", and I: "If you want me to, I will!" And he kept on tormenting me, on adding new movements, new difficulties, to see when I would say: "No, I can't". But, you know what? I never I gave in. No, no and no".
Now Alicia's face is that of a wicked teenager. She raises her arm and uses her fore finger to emphasize the statement. She moves it left to right. And she continues: "That is why the version of Tema y variaciones, just as it was danced in the premier was very, very complex from the musical and technical point of view. Imagine that when other dancers danced that ballet later - some were my friends, like Maria Tallchief, Balanchine's wife - commented later: "But, Alicia, how did you let him add this or that? How are we supposed to do it now?", and I answered: "Well, darling, it was Balanchine who added that, it was his idea..."
Is it true that presently the main soloist do not dance the original variations that Balanchine made for you and Youskévitch?
She stares at me. She gives me a hint of a smile.
I won't answer that question. It would be very unfair with today's dancers.
Alicia remains thoughtful. Her elbow rests on the table and her hand leans against her temple. Robin jumps to her lap, Sissi makes pirouettes between her feet and Tita runs from one side of the room to another. Alicia smiles again and begins to drink her coffee.
(
www.jrebelde.cubaweb.cu
)
---
Related News
---