Competition of World Team Domino Championship at Casa de la Amistad, Cuba
Submitted by: admin

11 / 10 / 2007
---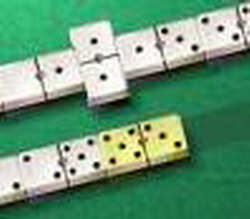 The two-day tournament will feature eighteen pairs of players from the Dominican Republic, Mexico, Spain, Nicaragua, Venezuela and Cuba, the latter hoping to retain the title.

The Cubans pairs, favorites of the tournament, include players from Santiago de Cuba, Cienfuegos, with current champs Osmil Daudinot and Salvador Cabrales from Guantanamo province, and a female team.

Finals will be played on Friday. Under the rules of the Swiss system, there is no elimination; winner pairs play among themselves and so do losers.

The president of the International Domino Federation, Eduardo Petreña, told the press that the goal is to have dominoes included in the Olympic program. "We are working hard on making this a fair play, which is one of the premises of the Olympic Games".

According to Petreña, the federation intends to include other styles of play in the international schedule, such as the double nine game. The fifth championship will take place in Venezuela in 2008, he announced.
Source: ACN
---
Related News
---